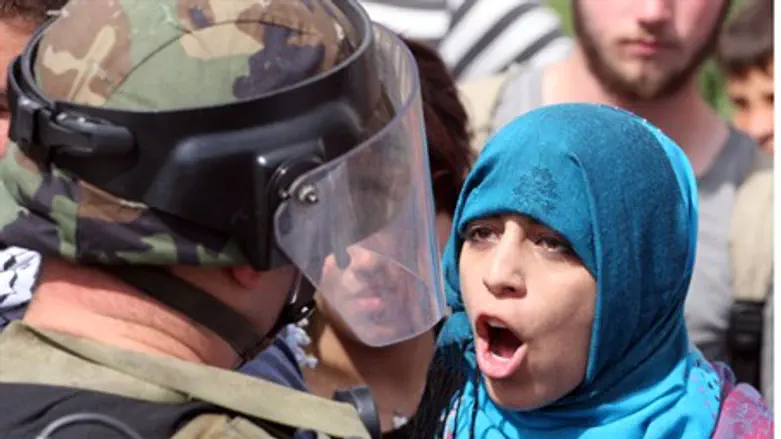 Arab woman with IDF soldier (illustration)
Issam Rimawi/Flash 90
A 17-year-old Arab woman carrying a knife was arrested outside of Hevron's Cave of Machpelah, preventing a potentially fatal stabbing attack on an IDF soldier.
The Arab woman refused to be checked at the site, with police officers warning her that she must undergo a security check.
At a certain point the woman drew the knife and threw it on the floor, at which the officers apprehended her. She admitted to having planned to stab a soldier and was taken in for investigation.
Just two weeks ago a soldier, 20-year-old First Sergeant Almog Shiloni hy"d, was stabbed to death by an Arab terrorist outside Tel Aviv's Hahagana Train Station.
The attempted attack in Hevron comes after the IDF's hareidi Netzah Yehuda Batallion, also known as Nahal Hareidi, busted a terrorist cell on Thursday night in the Kabatiya region south of Jenin in northern Samaria.
In the crackdown three terrorists of the cell were arrested while they were still in the planning stages of an attack on Israelis.
There was an indication from intelligence information of weapons in the region, reports the IDF, but only a thorough investigation on the ground by the soldiers was able to turn up the lethal tools of destruction.
The terrorists had a Kalashnikov assault rifle (AK-47), a handgun, roughly 45 M-16 semi-automatic rifle rounds, and two bullet cartridges.
"There's no doubt that tonight, like in every action, we felt like we were defending home," said company commander Captain Daniel Betzalel. "The cell was arrested and an attack on Israeli territory was prevented; the soldiers acted with great professionalism and brought impressive results."
Some of the seized weapons
IDF Spokesperson
Thursday night was eventful in terms of terrorist activity, with Arab terrorists shooting at the car of Yisrael Zeira, head of the non-profit Rosh Yehudi outreach organization, in a failed assassination attempt near Kiryat Arba in Judea.
Earlier an Arab terrorist was arrested in Hevron near the Jewish neighborhood after a Carl Gustav sub-machine gun was found in his car; before that, Arab terrorists opened fire on an Israeli car driving on Highway 465 near Hadoar Intersection, in the Binyamin region of Samaria north of Jerusalem.
Also on Thursday it was revealed that Israeli security services uncovered a major Hamas terrorist cell in Judea and Samaria in September.