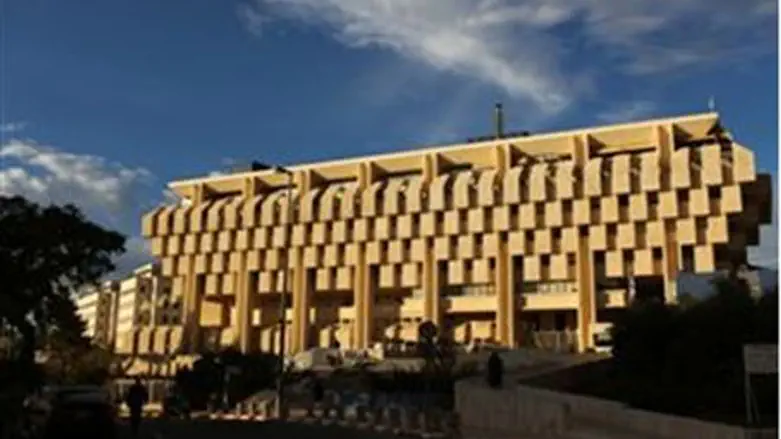 Bank of Israel
Israel news photo: Flash 90
The shekel continued to fall against the dollar Thursday, losing another 0.1% against the US currency – and the "bottom" for the shekel is a long way off, say foreign currency experts. According to analysts at the FXCM currency exchange firm in Tel Aviv, "no one is interested in the shekel today."
The shekel, which for the past three years has traded in a range between NIS 3.3-3.6 to the dollar, began falling precipitously about six weeks ago, after the Bank of Israel slashed interest rates, bringing the prime rate down to 0.25% - the same level as in the US. Speculators who had invested in the shekel in order to benefit from Israel's previously higher interest rates have now largely withdrawn their money, and the shekel has dropped accordingly against the dollar.
On Thursday, the shekel was trading at NIS 3.872 to the dollar, and NIS 4.849 to the euro. The dollar/shekel rate will remain in place until next Monday, as there will be no trading Thursday (Thanksgiving in the US), Friday and Saturday (when markets are closed in Israel), and Sunday (when markets are closed on Sunday).
The Bank of Israel, meanwhile, announced that it would continue to buy dollars in order to "sop up" extra demand for the shekel. Through the end of the year, the Bank will buy at least an additional $600 million.
Given that, said FXCM, don't expect the shekel to pick up strength anytime in the near future. With reports that the economy is weakening, investors are shying away from the formerly popular shekel. "Technically, the road is open to a valuation of NIS 3.9/dollar," and that rate is likely to appear in the coming weeks, the group said.