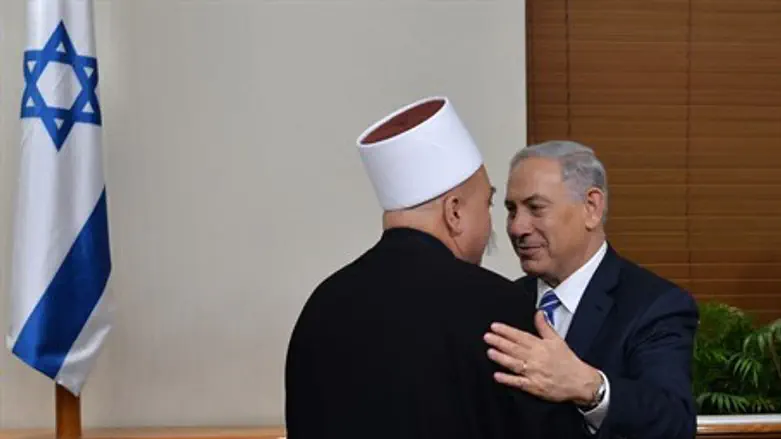 נתניהו עם ראשי העדה הדרוזית
צילום: קובי גדעון, לע"מ
Prime Minister Binyamin Netanyahu met with Druze community leaders Wednesday, where he expressed condolences over the deaths of two security officers in terror attacks on Jewish Israelis and he expressed solidarity with the Druze community.
In attendance were Druze spiritual leader Sheikh Muwafaq Tarif, Sheikh Hatem Halabi, Sheikh Mahmoud Seif, Sheikh Fandi Salah Assad and Druze Local Councils Forum head Jaber Hamoud.
Netanyahu expressed his condolences on the deaths of Israel Police Master Sergeant Zidan Nahad Seif, who was killed in last week's terrorist attack on a Jerusalem synagogue, and Border Police Chief Inspector Jidan Assad, who was killed on November 5 when a Palestinian terrorist deliberately rammed his car into a crowd of people at a light rail station in Jerusalem.
"You are our very flesh," Netanyahu stated. "You are an organic part of Israeli society."
"Your heroic policemen and soldiers have fallen in order to defend the state and all its citizens but we will defend your rights and your security," he continued. "This is as important to us as defending the security of each and every citizen but there is a deep emotional commitment here that found expression in the crowds who came to the funeral. This emotionally underscored what Israeli citizens feel and what I feel." 
Prime Minister Netanyahu added, "We are in a major fight against Islamist extremist fanatics. This is not simple. This is a dangerous threat. This is a struggle that we must fight. From our perspective every citizen has the right to life, security and freedom of religion. Freedom of religion and freedom of conscience – this is our battle. From my point-of-view, your battle is my battle and my battle is your battle."
Netanyahu's statements follow escalating tensions between the Druze and Muslim communities in Israel. Earlier this month, clashes broke out between Druze and Muslims in Abu Snan in the Galilee, wounding 40 people; and last week, graffiti was found on a Druze memorial o the east of the entrance to Druze town Daliyat al-Karmel, near Haifa.