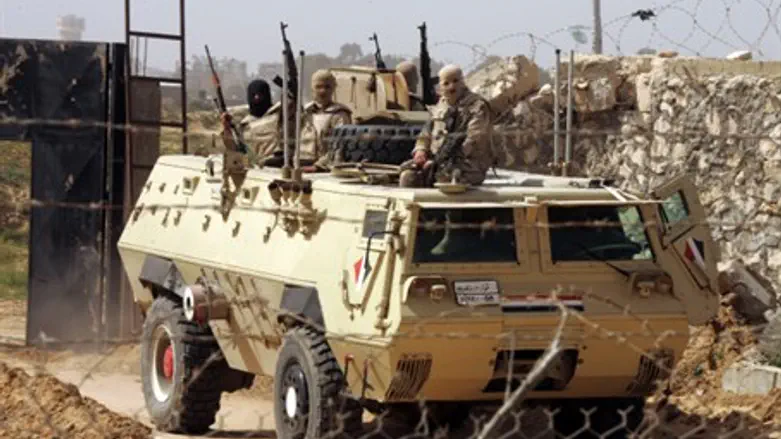 Egyptian soldiers along the border with Gaza
Flash 90
Egypt is to open the Rafah (Rafiah) border crossing with Gaza Wednesday for the first time since its closure in late October after a bombing in the Sinai Peninsula, officials said.
The crossing, which is the only access point to Gaza not controlled by Israel, will open from 12:00 noon to 2:00 p.m. on both Wednesday and Thursday, a government official said.
Security officials and state media also reported that the crossing would be reopened.
Egypt's government declared a three-month state of emergency in the lawless Sinai Peninsula late in October, in response to two attacks which killed 31 soldiers on October 25, the deadliest day since the start of the Islamist insurgency in Sinai.
Egyptian President Abdul Fattah al-Sisi said jihadists terrorists pose a threat to the very existence of the country, and blamed their insurgency in the Sinai on "outside forces" seeking to destabilize Egypt.
Residents in Gaza's south, and particularly the Sinai border town of Rafah, were subsequently expelled from their homes, which were then demolished by dynamite and bulldozers.
The Islamic State's Sinai Peninsula terror organization, which was named Ansar Bayt al-Makdas until it swore allegiance to Islamic State (aka ISIS), blew up the pipeline carrying gas from Egypt to Jordan through Sinai two weeks ago.
The pipeline, which is 1,200 km long, and was built at a cost of $1.2 billion, is used for exporting natural gas to Jordan, Syria and Lebanon. In the past, it was repeatedly attacked by Islamist terror groups, until Egypt's gas exports to Israel were halted.