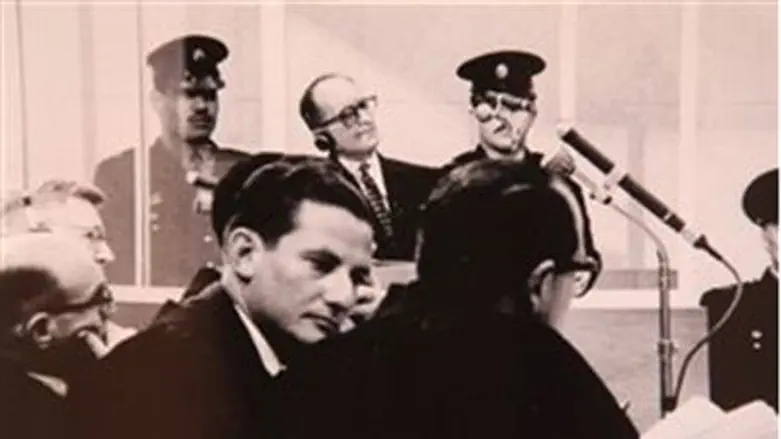 Eichmann Trial
Israel news photo: Flash 90
A trove of prosecution documents from the 1961 trial of Nazi leader and Holocaust mastermind, Adolf Eichmann, will be auctioned off in Jerusalem by the Kedem Auction House next Tuesday. 
The sellers have estimated the papers could bring in more than $20,000. 
Eichman, responsible for managing the deportations and eventual genocide of European Jewry, escaped from Germany to Argentina following World War II.
He lived in Argentina for a number of years, before being captured in a top-secret operation by Israel's Mossad spy agency in 1960. After a four month long trial, he was hanged on May 31, 1962 - the only person to receive the death penalty in Israel. 
The documents from the trial include an affidavit signed by Golda Meir, Foreign Minister at the time, correspondence between the prosecutors about Eichmann's body language, and a beat-up draft of of the closing arguments. Photographs of the court were also uncovered. 
Kedem Auction House reported that the material was found several months ago in a garbage dumpster in Jerusalem. The person who found the documents continued searching and found additional materials in a Jerusalem apartment  "just before they were about to throw those in the garbage, too."
The documents had reportedly belonged to a member of the prosecution team. Meron Eren, co-owner of Kedem, said it was incredibly fortunate these documents were not lost. 
One of the papers is a note on which a prosecutor wrote to a colleague in pink ink, "Did you notice that he is standing [underlined twice] for a full hour without moving at all? There is only a single muscle you can see working: the gullet muscle. And there you can also see that he isn't so quiet."
In another document, one prosecutor expresses concern that Eichmann may file a request for immunity, noting, "I wanted to say that no concrete request for immunity has been filed." 
Another note written during a hearing on whether the statue of limitations applied to the crime, the prosecutor wrote, "They're asking more slowly."
Other documents deal with the legality of the Mossad's kidnapping of Eichmann from Argentina and the authority of an Israeli court to prosecute him.
In one such document, Meir certifies that the capture and subsequent transfer to Israel "were subjects of discussions between the governments of Argentina and Israel, and a solution was found to the disagreements, acceptable by both governments."
The collections also contains legal pamphlets written by chief-prosecutor Gideon Hausner, copies of the indictment and the verdict, as well as other legal materials from the course of the trial. Many of the documents include handwritten comments and corrections. 
"We are lucky that this fascinating collection, which exposes an unfamiliar side of the prosecution's work during the trial, was not lost," Eren told Haaretz.
"These are documents that are part of one of the most significant events in the State of Israel, and they constitute part of this amazing enterprise, whose aim was to be a voice to the six million murdered whose blood cried out, but they had no voice."