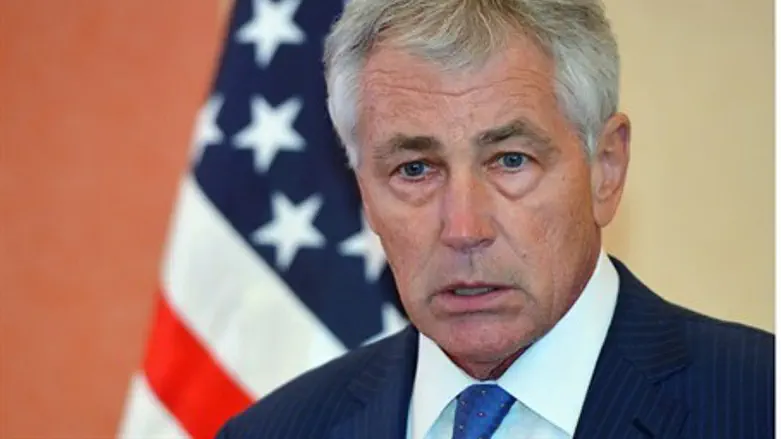 U.S. Defense Secretary Chuck Hagel
Reuters
One of the potential candidates to replace Chuck Hagel as Defense Secretary of the United States pulled out of the race.
Michèle Flournoy confirmed to the Politico website on Tuesday that has taken herself out of the running.
Flournoy, who was undersecretary of defense for policy from 2009-2012 and now runs the Center for a New American Security, a think tank that is largely funded by defense contractors, was considered a front-runner to replace Hagel, who announced his resignation Monday.
Deputy Defense Secretary Bob Work and his predecessor, Ash Carter, are now considered even stronger contenders, noted Politico.
Flournoy's withdrawal comes amid speculation President Barack Obama is looking for a candidate who would be deferential to a White House that's increasingly exerting control over Pentagon decisions.
Flournoy "doesn't want to be a doormat, and I think they want a doormat," said one former Defense Department official who worked there during Flournoy's tenure. "I do not think they're looking for someone more aggressive and independent."
Flournoy, who's advocated for increased defense spending and a stronger U.S. role in the world, is also considered a top contender to be defense secretary in the next administration if a Democrat wins the presidency in 2016, especially if it is former Secretary of State Hillary Clinton.
"I think she will calculate that she has a pretty good chance if Hillary Clinton wins," the former official told Politico.
A Washington think tank expert who has worked with Hagel said, "It sounds like the White House just wants a cheerleader for what's going on."
"For someone like Michèle Flournoy," the expert continued, "isn't it better to influence policy from the outside rather than be held hostage to the Defense Department?"
The decision to ask Hagel to step down was made last Friday after a series of meeting in the past two weeks, senior administration officials said following his announcement on Monday.
The officials described Obama's decision to remove Hagel as recognition that the threat of Islamic States requires a different skill set than Hagel can employ. "The next couple of years will demand a different kind of focus," one administration official said.