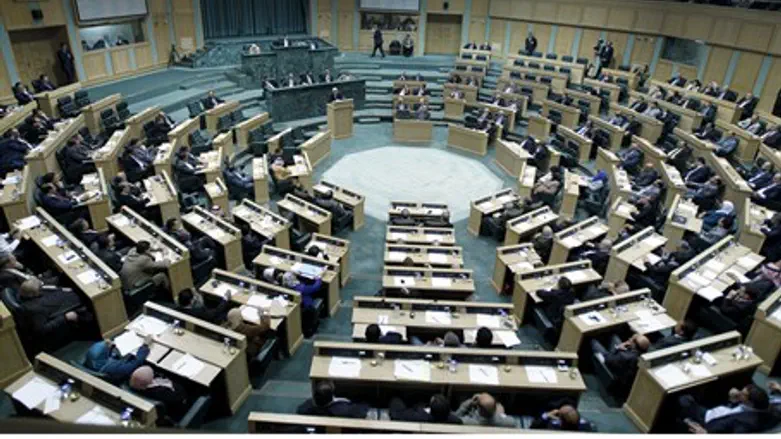 Jordan's parliament
Reuters
Jordan's government reacted angrily on Tuesday to comments made by Israel's ambassador to Jordan, Daniel Nevo, during an interview this week on Army Radio.
During the interview, Nevo was asked to comment on the Jordanian parliament holding a special prayer in honor of the two terrorists who carried out the massacre at a synagogue in Jerusalem last week, who MPs hailed as "heroes".
Nevo responded by saying that Jordanian MPs are seen among locals as taking care only of themselves, and that they tend to sometimes engage in minor issues.
In response, a spokesman for Jordan's Foreign Ministry said on Tuesday that "the ambassador's words are unacceptable and are not true."
"Such statements cross the boundary between the two countries," said the spokesman who was quoted by Army Radio, adding that the ambassador should respect all the institutions of the country in which he is serving.
There were reports on Monday that Nevo had been summoned by the Jordanian Foreign Ministry after the statements which were thought by some to be demean Jordan's parliament.
Jordan's al-Ghad newspaper, according to i24news, reported that the parliament's speaker had asked the government of Jordan to take action against Nevo.
Jordanian Information Minister Mohammad Momani said that Jordan will be sending an official letter of protest to Israel and will be looking into any other necessary steps that they might take against Nevo.
Despite Israeli Prime Minister Binyamin Netanyahu recently assuring Jordan's King Abdullah that Israel is committed to the peace treaty between the two countries, the Jordanian government has been striking a far less conciliatory tone, with ministers calling on the king to revoke the peace treaty with Israel.
In a recent TV interview, translated by the Middle East Media Research Institute (MEMRI), Jordanian MP Rudaina Ati praised "the (Jerusalem synagogue) operation" for sending "a clear message to the Zionist entity and to Stink-iyahu," referring to Israel with the term used by belligerent Arab states who refuse to recognize the existence of an independent Jewish state.
"The (Jews) must reconsider what they are doing, because they always violate treaties and abide by none," she continued, playing to anti-Semitic tropes popular in the Arab world.
"The Palestinian Authority must not defend the interests of the filthy Jews on the land of Palestine," she declared.