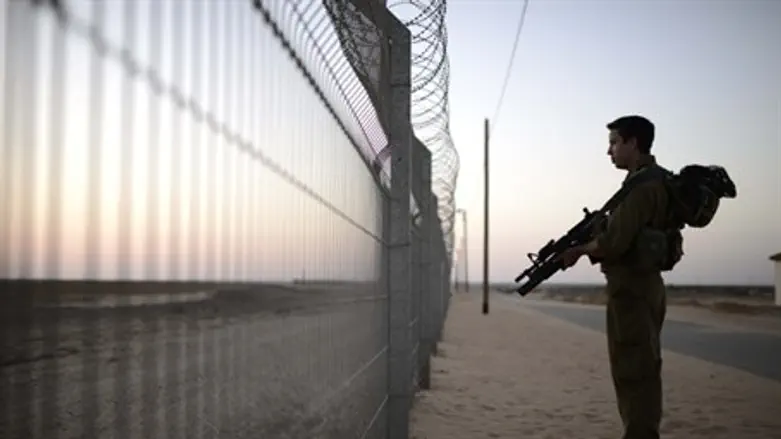 Gaza border fence (file)
Flash 90
Two Palestinian Arabs crossed the border fence from Gaza into Israeli illegally, the IDF stated Sunday afternoon, forcing the IDF to open fire.
One of the Palestinians - identified by Gaza emergency services spokesman Ashraf al-Qudra as Fadel Mohammed Halawa, 32 - was shot dead inadvertently; another was injured in the lower half of his body and was taken for medical treatment. 
The IDF clarified Sunday afternoon that the soldiers on duty at the border had merely fired warning shots into the air as is IDF protocol when warning off infiltrators.
"Once they didn't comply, they fired towards their lower extremities. There was one hit," a spokeswoman said.
This is the first death of an infiltrator along the border since Operation Protective Edge. 
Since November, no fewer than twelve Palestinian Arabs have tried to infiltrate the border with Israel on the northern edge, near the Eshkol Regional Council. In every case, the IDF managed to apprehend the would-be infiltrators; some of them were armed. 
Eshkol Regional Council head Haim Yalin urged the government last week to step up its construction of a border fence around the Eshkol region following the infiltration attempts.
"These events are growing and are a clear danger to local residents," he stated Monday.
"In light of this, and following the recommendation of professional bodies in the IDF during Operation Protective Edge, we demand from the Defense Ministry to speed up the approval of the construction of a barrier along the border, to block the options infiltrators have to enter into Israel," he added, noting that it is "essential" for local security. 
"We anticipate that the Defense Ministry will not cut costs, and instead put the lives of the residents as priority and promote the construction of the barrier," he concluded.