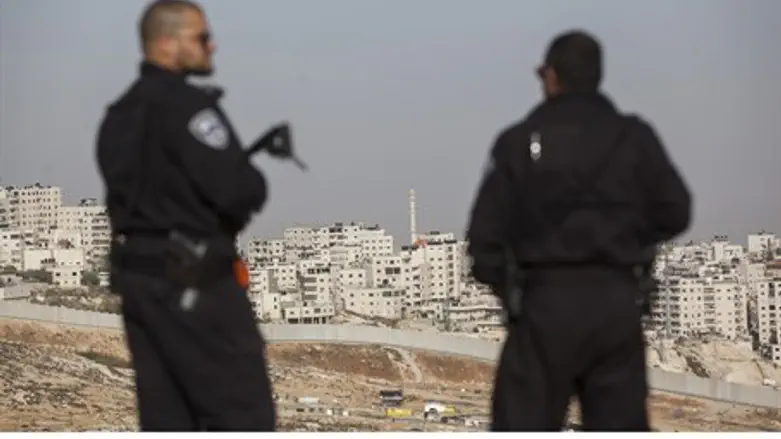 Israeli police on patrol (illustrative)
Yonatan Sindel/Flash 90
The Har Nof massacre has set a precedent for attacks on Jerusalem synagogues, a resident of the neighborhood of Nof Tzion told Arutz Sheva on Sunday - and now their local synagogue is being targeted. 
"As the terrible massacre in Har Nof was being carried out, at the same time, dozens of young men threw rocks at a Sephardic synagogue in our neighborhood," Chen Rosen recounted.
According to Rosen, a crowd of Arab teenagers looked on and encouraged the rock-throwing, but "unfortunately, there was nothing done by the Police."
Then, it got worse.
"That evening they hurled fireworks at the synagogue," Rosen continued. "Police arrived to apprehend the terrorists, but fireworks were shot at them as well."
Rosen noted that the proximity of Nof Tzion to Jabal Mukaber, where Har Nof terrorists Ghassan and Uday Abu al Jamal lived, has begun to concern local residents, as well as the fact that relatively little has been done to deter more attacks.
"It undermines the security of Israeli citizens, the fact that there are Israeli citizens who are terrorists in every respect who can move freely in the capital," Rosen said. "Unfortunately, despite the police presence, observation balloons and concrete barriers, there is no guarantee that the threat level has been lowered." 
"Every night we are attacked by fireworks; most people don't leave their homes, especially not to go to the park," she continued. "There are nearly ninety families in Nof Tzion, and until 'Protective Edge' you would see Jews and Arabs sitting together in the park - now it seems like that was a long time ago." 
Nof Tzion and the surrounding neighborhoods have indeed become a new locus for attacks this week. On Friday, Arabs threw Molotov cocktails at one of the buildings, causing damage but no injuries. 
In a similar incident, Arab attackers nearly lynched two yeshiva students at the Beit Orot yeshiva on the Mount of Olives on Friday night. The attack was apparently pre-planned, with multiple attackers approaching the 21 year-old and 24 year-old victims with rocks, crowbars, and Molotov cocktails. Police blamed the Jewish students for "provoking" the attack, however, evoking frustration from local residents at what many see as an attack on the right for Jews to live in the Jewish capital. 
The massacre may have also set a precedent for terrorists to target synagogues around the world, Arutz Sheva noted Friday, after a Swedish rabbi revealed that his synagogue has received threats - and that he has been presented with death threats - just days after the attack.