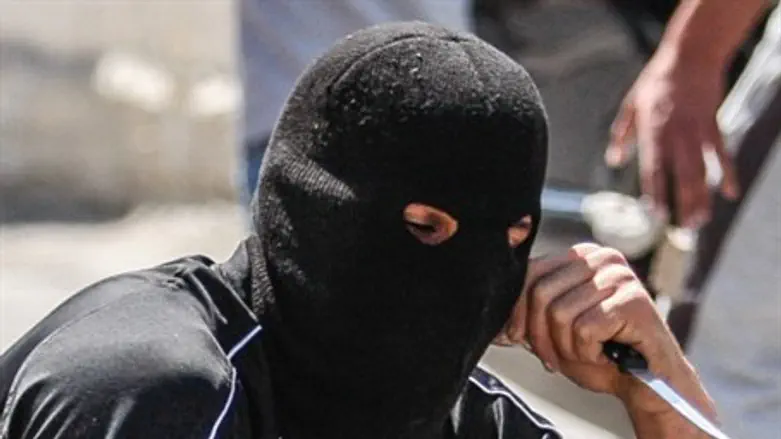 Arab with knife (illustration)
Flash 90
Two Jewish men were wounded in eastern Jerusalem on Friday evening when they were stabbed by Arabs during what police believe was a fight that escalated.
The two men, aged 24 and 21, were making their way towards the Beit Orot yeshiva on the Mount of Olives when they were attacked by Arabs. A Magen David Adom paramedic who was called to the scene told Channel 2 News that the two victims told him they were attacked with planks and were pelted with rocks.
The paramedics evacuated the two wounded men to the Shaarei Tzedek Medical Center in Jerusalem. Magen David Adom said that one of the victims suffered a cut to his back and was in moderate condition, and the other was bruised in the head and is in light condition.
According to the police, "Border Police officers who were called to the scene dispersed the brawl during which two were lightly wounded. Jerusalem police remain on increased alert in the eastern neighborhoods of the city to respond quickly and decisively to any incident."
The incident is the latest in the ongoing tensions in the capital, where Arabs have rioted and carried out terrorist attacks in what has come to be known as the "silent intifada".
Nevertheless on Friday, for the second week in a row, Israeli police did not restrict access to young Muslim worshippers at the Al-Aqsa mosque.
The restrictions were lifted for the first time last Friday, after weeks in which Muslim men under 35 were not permitted to enter the compound due to tensions and intelligence information about planned riots.
The decision to leave last week's directive in place was made despite the fact the earlier on Thursday, Israeli police seized a massive shipment of firecrackers, swords, tasers and other weapons at the Ashdod port, a potentially deadly arsenal which was set to be delivered to Arab neighborhoods in Jerusalem.
Two containers intercepted by authorities at the southern port were packed with 18,000 fireworks, 5,200 commando knives, 5,500 tasers, 4,300 tasers concealed in flashlights, 1,000 swords and several thousand other "cold" weapons.
Fireworks in particular have become a weapon of choice among Arab rioters in Jerusalem, prompting a controversial decision to temporarily ban the importation of certain types of fireworks.
(Arutz Sheva's North American desk is keeping you updated until the start of Shabbat in New York. The time posted automatically on all Arutz Sheva articles, however, is Israeli time.)