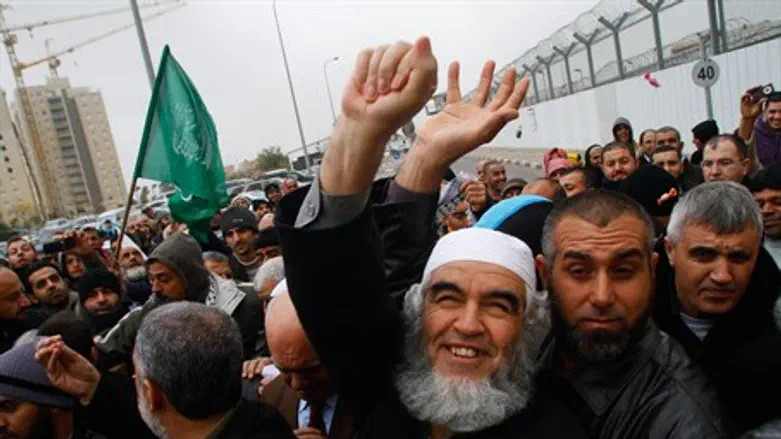 Sheikh Raed Salah leaving jail
Uri Lenz/ Flash 90
Yisrael Beytenu MK Alex Miller's bill to blacklist the Islamic Movement in Israel will be reviewed by the Ministerial Committee for Legislation on Sunday, and if passed, would strike a major blow against Islamists blamed for the continued Arab rioting in Jerusalem and elsewhere. 
The Islamic Movement's northern branch, headed by Sheikh Raed Salah, was named by Transportation Minister Yisrael Katz as the prime culprit behind the rise of Arab rioting in Jerusalem and in northern Israel last week. Katz has long called to blacklist the movement and jail Salah for incitement, but no full-scale legal action has been issued to blacklist the group until now. 
"The northern branch of the Islamic Movement openly undermines the State of Israel's sovereignty through cynical use of its [Israel's] institutions and basic values as a Jewish and democratic state," the explanatory note for the bill reads. 
The Islamic Movement is actually banned in several Muslim states - in part, due to links to the Muslim Brotherhood - and has been repeatedly involved in the violent "Nakba Day" protests opposing Israel's existence earlier this year.
Salah himself has a long history of violence and incitement, and officially declared the rioting across Israel "the third intifada" in a series of remarks Thursday.
Salah told Al-Jazeera "residents of the (West) Bank [Judea-Samaria - ed.] should not respond to occurrences in Al-Quds (Jerusalem) from a position as observers of the situation, but rather residents of the Bank want to emphasize their commitment to the holiness of Al-Aqsa (Mosque) and the holy city."
"The (Palestinian) Authority should provide them an environment of freedom and not act to oppress their processions as happened in Hevron and Shechem (Nablus)," continued Salah, calling for demonstrations that frequently feature violent clashes with IDF forces. 
Several legal actions have already been levied against Salah, who was given a suspended eight month sentence in March for incitement regarding the Temple Mount. 
Last year, he labeled Israeli leaders "terrorists" and "enemies of Allah" in a speech to Muslims in Be'er Sheva; he was also jailed for five months in 2010 for spitting at an Israeli police officer. 
Ra'ed Salah has a long history of anti-Israel and anti-Semitic comments.
During a speech at a 2007 demonstration he accused Jews of using children's blood to bake matzah, invoking the infamous medieval blood libels used to trigger murderous pogroms in both Europe and the Middle East. 
Salah also spent a brief period in jail for transferring money to Hamas, and famously "reminisced" fondly over the drawing of swastikas as a child, in a 2009 interview with a London-based Arabic language TV station.