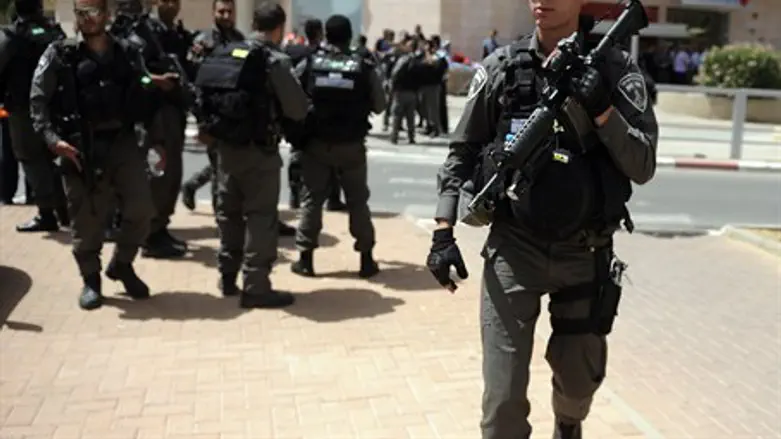 Border Patrol officers (illustration)
David Buimovitch/Flash 90
Former MK Dr. Michael Ben-Ari has launched a new initiative in coordination with the family of the Border Patrol officer who was arrested last Tuesday for allegedly shooting an Arab rioter in the Nakba Day riots this May, apparently on the basis of autopsies conducted by the Palestinian Authority (PA).
Ben-Ari turned to other Border Patrol officers as well as rank-and-file citizens to contribute 20 shekels (around $5) each to help deal with the enormous legal expenses the family has been saddled with to defend their son.
Speaking in a video from Givat Ze'ev in Jerusalem's north, adjacent to Bitunia where the rioter died while besieging Ofer Prison with at least 150 other Arab rioters who hurled rocks and burning tires, Ben-Ari on Facebook explained the plight of the officer's family.
"It's not a family with a balance, they have an overdraft. And suddenly to spend something like 20,000 shekels (over $5,200) for an attorney - because they aren't sparing expenses, it's their child...it's beyond their means," said Ben-Ari. "I promised I would help them, and they authorized me to gather money for legal aid."
"I call on every Border Patrol fighter and captain to show comradery and give 20 shekels so that the family doesn't collapse," the former MK said, suggesting that one soldier in each company collect the money and be in touch with him to transfer it to the family.
Ben-Ari noted he could also privately give the family's account number to those who want to transfer directly, adding that the family asked that the number not be published.
"The goal for each company is 1,000 shekels. If 1,000 people give 20 shekels we'll have the amount for the first stage of the trial," commented Ben-Ari. "Today it's him, tomorrow its every one of us. We will not abandon him!"
Ben-Ari has already called on MKs to visit the soldier in jail in a show of solidarity. Referencing the murder of a 20-year-old IDF soldier in Tel Aviv last Monday, Ben-Ari added "if Almog Shiloni hy''d had preempted the murderer who stabbed him to death he too would be sitting in jail now and be investigated...for killing a terrorist!"
Regarding the Border Patrol officer's case, while the PA autopsy claimed the rioter was killed by a live round, the IDF initially stated that only rubber bullets were fired to try and break apart the violent riot.
Casting further doubts on the point is CCTV footage that was released by blogger Elder of Ziyon at the time of the incident, which elucidated the questionable nature of the limited CCTV video evidence published earlier by leftist groups and Arab activists.
In one section of the video, two Arab assailants who died in the riots are seen falling but not a drop of blood is left behind, despite the claims that they were shot by bullets that went through their bodies. In both cases the collapsed rioters are removed, and leave behind perfectly clean pavement.