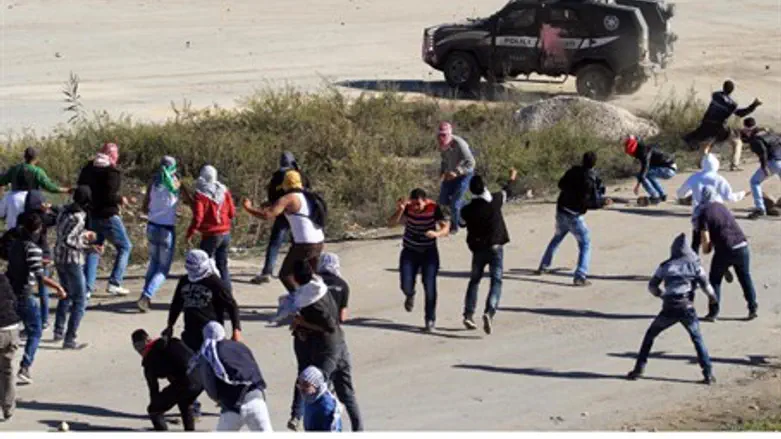 Arab rioting (file)
STR/Flash90
Hamas is attempting to stir up tensions in Judea and Samaria on Friday, specifically near the Qalandia checkpoint in Jerusalem's north and in Hevron. 
News of a potential "day of rage" in the making surfaces after the Israel police announced that no restrictions would be levied on Muslims entering the Temple Mount on Friday, the second week in a row of kowtowing to pressure from the Jordanian Waqf following a meeting in Amman between US Secretary of State John Kerry, Jordan's King Abudullah II, and Prime Minister Binyamin Netanyahu.
On Thursday, Palestinian Arabs launched several rock attacks at Israeli civilians and police. Rocks were thrown at bus line 388 in the Arad metropolitan area located in the Negev, injuring one passenger and damaging the bus - the third such incident in the area Thursday. Two other rock attacks were reported nearby against civilian vehicles, injuring a motorist. 
Meanwhile, riots continue in Jabel Mukabar in Jerusalem, where Arabs continue to throw rocks against police to protest the demolition of the homes of the terrorists responsible for Tuesday's Har Nof massacre.
Police and Border Patrol forces stationed in the neighborhood were attacked with rocks Thursday, but no injuries were reported; riot dispersal measures were used. 
Also Thursday, in Abu Dis to the east of Jerusalem, dozens of Palestinians rioted, burned tires and threw rocks at security forces. Forces responded with riot control measures.
Public Security Minister Yitzhak Aharonvich (Yisrael Beytenu) ordered Border Police commanders to increase Jerusalem's security, adding that reinforcements will be sent in if necessary.