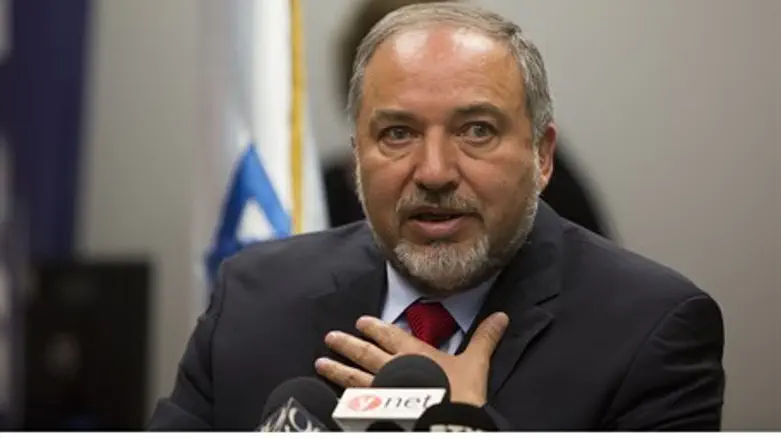 Foreign Minister Avigdor Liberman
Yonatan Sindel/Flash 90
The Israel Security Agency (Shin Bet), the IDF and the Israel Police apprehended three terrorists who planned to assassinate Foreign Minister Avigdor Liberman using RPG missiles, it was cleared for publication on Thursday evening.
The military prosecutor filed charges in the Judea Military Court against the three, who planned to assassinate Liberman as a response to Israel's counterterrorism Operation Protective Edge in Gaza last summer.
According to the indictment, the three were planning to buy RPG missiles and then launch them at the foreign minister's car, in hopes that the attack would stop Israel's military operation in Gaza.
The terrorist cell was headed by Ibrahim Salim Mahmoud Zir, 37, a senior member of Hamas who resides near Bethlehem and who served several prison terms in Israel on charges of terrorism.
Zir enlisted his brother, Ziad Salim Mahmoud Zir, 35, and another Hamas terrorist by the name Adnan Amin Mahmoud Tzabih, 31. They admitted to being recruited to help carry out an attack against a senior Israeli figure.
In addition, Zir turned to senior Hamas terrorist Ibrahim Yusuf al-Sheikh, 50, a resident of Bethlehem who is known for his past involvement in Hamas terrorist activities, and asked him to help him in obtaining RPG missiles.
The three terrorists were caught while conducting surveillance on Liberman's security guards near his home in Gush Etzion community of Nokdim.
They were arrested in mid-August by security forces after one member of the squad was caught trying to buy the missiles. The three were charged with conspiracy to commit murder, attempted murder, and conspiracy to trafficking in munitions.