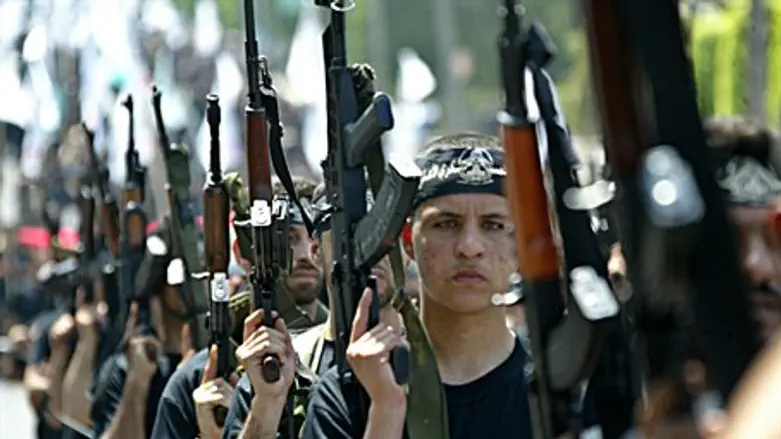 Al-Aqsa Martyrs' Brigades terrorists
Ahmad Khateib/Flash 90
Shurat Hadin (Israel Law Center) on Thursday won a major decision in their landmark case against the Palestinian Authority (PA), achieving a court date in a $1 billion case exposing PA and Palestine Liberation Organization (PLO) culpability in numerous terror attacks.
The Israeli-based civil rights organization sued the PA on behalf of 11 families for involvement of PA and PLO members in seven terror attacks between 2001 and 2004 during the Second Intifada.
Now a trial will be held in New York in January, allowing the lawsuit originally brought in 2004 to be heard in court after the defendants' request to dismiss the trial was overruled.
"For years the PA provided funding and every measure of support for the murderous terrorist operations in Israel that devastated the country and left so many civilians dead," said Shurat Hadin director Attorney Nitsana Darshan-Leitner.
Darshan-Leitner added "the decision and trial will provide an unprecedented opportunity to present to a New York jury all that the evidence that has been amassed documenting the Palestinians use of terrorism as an official policy to advance their goals."
In setting the court date, the US District Court in New York found there was sufficient evidence to present to a jury that the PA and PLO had provided material support for seven attacks that killed American citizens, and that the PA could be tried for being "vicariously liable" on six of the seven attacks.
The decision found there was enough evidence to rule that PA employees conducted terrorist attacks against civilians in Israel, and that the PA and PLO provided weapons, money and other material support in violation of the Anti-Terror laws.
Additionally, the court found the jury could rule that the PA provided safe haven to the terrorists, and gave material support to the terrorist organizations Hamas and Al-Aqsa Martyrs' Brigades, the "military wing" of PA Chairman Mahmoud Abbas's Fatah faction.
Shurat Hadin has been actively pursuing the PA in international courts, recently filing a war crimes complaint in the International Criminal Court (ICC) against Abbas.
It is hoped that the hearings in January will allow further recourse against Arab terrorism, as was achieved in a recent ruling finding the Arab Bank guilty of funding Hamas attacks. Arab Bank has submitted for a retrial on the ruling.