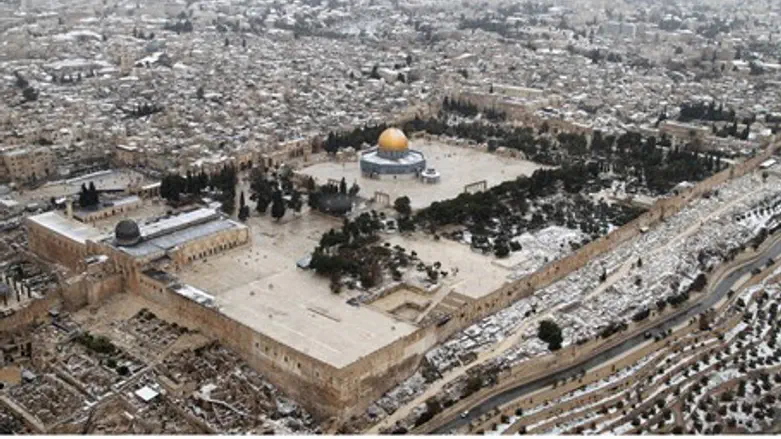 Al Aqsa Mosque (bottom-left) is outside the Temple Mount according to Jewish tradition
Nati Shohat/Flash 90
Ramat Gan Chief Rabbi and prominent religious-Zionist scholar Rabbi Ya'akov Ariel spoke to Arutz Sheva about the tensions over the Temple Mount, the holiest site in Judaism which has been at the center of attempts by Palestinian Authority and Islamist leaders to incite a religious war.
Despite being Judaism's holiest site Jews are prevented from praying on the Mount and Jewish visits are severely restricted, due to threats of violence from Muslim leaders.
Islamists and PA officials, including Mahmoud Abbas, regularly accuse Jewish visitors to the Mount of attempting to "storm the Al Aqsa Mosque." Al Aqsa mosque - not to be confused with the golden-domed Dome of the Rock shrine - is the largest of several mosques at the site, where the ancient Jewish Temples once stood.
But In fact, Rabbi Ariel pointed out, no religious Jews have ever attempted or asked to pray inside the mosque - and they have absolutely no desire to do so.
Referring to the binding of Yitzhak (Isaac) as related in the Torah - which took place at the site - Rabbi Ariel noted the Jewish patriarch "came down from the altar as a pure sacrifice whose entire goal was to serve G-d."
"To differentiate, it is known that the Muslims adopted the idea of the binding and celebrate the sacrifice holiday (Eid al-Adha) of the 'binding of Ishmael,' and the messages of Ishmael are the complete opposite (of the binding of Yitzhak)," noted the rabbi, referring to the Islamic festival which co-opts the Biblical story but substitutes Yitzhak for his older half-brother and ancestor of the Arab nation Ishmael.
Ishmael "came down from the altar not as one who was (sacrificially) slaughtered, but as a slaughterer. That's the difference. He wanted to submit the whole world under him by force," Rabbi Ariel said of Islam's focus.
It is that fundamental theological difference which prevents many Muslims from understanding that Jewish demands for equal prayer rights on the Temple Mount - which is Judaism's holiest site - are not an attempt to prevent Muslims from praying there as well.
"They say we want Al-Aqsa (Mosque). Who wants Al-Aqsa? It's outside of the Temple Mount. It's very possible that it will remain even when the Temple is rebuilt!" said Rabbi Ariel, noting that the mosque itself stands outside of the sanctified areas of the Temple Mount according to Jewish tradition - though it is part of the wider complex.
"But because of their forcefulness they are convinced we too want to come to Al-Aqsa by force."
The rabbi's appraisal is backed by, among others, the writings of former Chief Rabbi of Israel Rabbi Shlomo Goren zt''l, who also noted that Al-Aqsa was built outside the boundaries of the Temple.