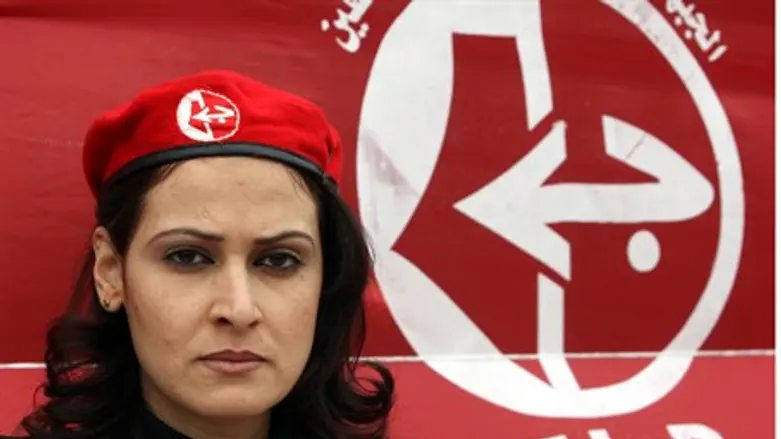 PFLP terrorist (illustration)
Wissam Nassar/Flash 90
Former Palestinian terrorist, Rasmieh Yousef Odeh was found guilty last week of not disclosing she had been convicted in a 1969 terrorist attack in Israel when she was applying for United States citizenship. Two people were killed in the attack she participated in. 
On Wednesday, she petitioned the court to be released from custody until her sentencing hearing, scheduled for March 2015. 
Odeh, 67, could face up to 10 years in prison for her conviction, be stripped of her citizenship, and deported.
Federal prosecutors expressed strong opposition to her being set free, even temporarily, because, as they suggested, one cannot rely on a terrorist to show up for sentencing. "Odeh has serially displayed a lack of trustworthiness for years," the prosecutor said, explaining his opposition. 
Odeh immigrated to the United States in 1995, coming to Michigan to help take care of her father, who had cancer. She applied for US citizenship in 2004. On her immigration forms in 1995 and later on her application forms for citizenship, she wrote she was never convicted of a crime.
Her defense team argued that she thought the question related to convictions rendered within the United States. Prosecutors, however, called her a terrorist who used deception to enter the US. 
Odeh, a member of the terror group Popular Front for the Liberation of Palestine (PFLP), was convicted in Israel for her involvement in the Supersol supermarket bombing on February 21, 1969. Two Hebrew University students, Leon Kanner and Eddie Joffe, were killed in the attack and ten others were wounded. The bomb was reportedly hidden in a candy box tucked on a shelf of the store.
The Israeli military court also found her guilty of planting two explosives in the British Consulate in Jerusalem. She was sentenced to life imprisonment in 1970, when she was 22-years-old. She was released ten years later to Lebanon - in a prisoner exchange with PFLP. 
More recently Odeh has been working as the Associate Director for the Arab American Action Network in the Chicago area. Hatem Abudayyeh, the Executive Director of the organization, said that Odeh is an "icon" in the community, and that she was arrested some time last year and released on bail. 
If Odeh's sentence is expulsion, she will apparently be deported back to Jordan - from where she first arrived in the United States 20 years ago.