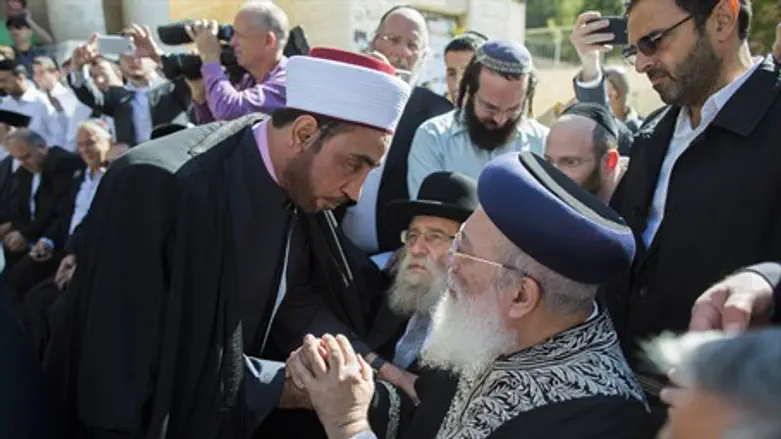 Jerusalem's Sephardic Chief Rabbi Shlomo Amar
Yonatan Sindel/Flash 90
The funeral for a Druze police officer killed in yesterday's terrorist attack in Jerusalem has begun in his home town of Yanuh-Jat.
Sergeant Major Zidan Seif (30) was shot in a firefight with terrorists as he heroically intervened to stop the massacre at the Kehillat Yaakov synagogue in Har Nof; he died of his wounds late Tuesday night.
His funeral began at 2 p.m.
Thousands were in attendance, including leaders of the Druze, Jewish, Christian and Muslim communities, as well as President Reuven Rivlin, Minister of Public Security Yitzhak Aharonvich (Yisrael Beytenu), and Police Commissioner Yohanan Danino.
"Zidan entered into the heart of hell, boldly and without fear," Police Commissioner Yohanan Danino stated. "He risked his life for the security of Israeli citizens." 
"The actions of Zidan and his colleagues saved the day," he continued. "It was a rapid and professional response, which avoided any more people from being hurt and prevented the terrorists from widening the scope of the attack as they intended."
"Israel owes a deep debt to Zidan," Danino said," a deep debt for this person and this excellent officer, a debt to remember his greatness, his career, his character, his belief in justice, bravery and courage. This is the legacy of Zidan, and as such is eternal."
"The strength of Zidan, a hero, strengthens and unites us into one family," Danino added. "We are strengthened in light of his memory and his legacy of fearlessness as a cop."
President Reuven Rivlin eulogized Zidan as well, noting that he acted out of a deep sense of human values. 
"Yesterday morning, terror struck in Jerusalem again," Rivlin stated, adding that it "does not distinguish between people, between blood and blood."
"Terrorists turned it into a slaughterhouse," he added. "Zidan heard what was happening and did not hesitate or debate; he was among the first to report to duty in the face of the flames of hatred and hostility."
"Zidan fought strongly against the terrorists," Rivlin continued. "He acted out of the values he stood for - love, heroism, closeness to people. He fell to save Jerusalem." 
Rivlin concluded by directing praise, specifically, to the Druze community in Israel. 
"In these difficult days, when terror raises its head, the Druze, who are bold and upright, are at the forefront of the war on terror," Rivlin said. "The Druze community, then as now, hold a sword in one hand and use the other to protect peace." 
MK Eli Yishai (Shas) also spoke at the funeral. 
"Zidan, you who sacrificed himself, proved extraordinary heroism and courage, and through force prevented further lives from being lost," Yishai stated. "The heart of the entire Jewish people is with your family, and your name is engraved on our hearts forever." 
Hareidi community rallies to attend
Many hundreds of hareidi Jewish mourners are also present, after a campaign urging community members to attend the went viral online and on Whatsapp. Buses were charted from Jerusalem to accommodate the high number of requests.
"He protected our brothers in prayer with his own body - we have come to show him our gratitude and sanctify God's Name," said one of the organizers of the hareidi initiative. He added that buses were arranged, free of charge, from central Jerusalem, sponsored by hareidi donors seeking to honor Seif's memory.
Hareidi websites have also been publishing a psak halakha (religious ruling) by former Sephardic Chief Rabbi and Shas spiritual leader Rabbi Ovadia Yosef, who ruled that "A Druze soldier on duty who defended Israel against its enemy... and was killed at the hands of the Ishmaelites (Arabs), for the sake of guarding the security of Israel, it is correct to recite for him hashkava [a Jewish prayer for the dead - ed.] in the synagogue for his soul."
"The Druze believe in One God, and do not worship idols at all," the ruling continues, noting that the Druze religion is a monotheistic faith. "Not only that, but they enlist into the Israel Defense Force and sacrifice their lives in defense of the citizens of the State of Israel, and they observe the Seven Noachide Laws," Rabbi Yosef wrote, classifying them as among "the righteous among the nations."
credit: Yonatan Sindel/Flash 90
credit: Yonatan Sindel/Flash 90
credit: Yonatan Sindel/Flash 90
credit: Yonatan Sindel/Flash 90
credit: Yonatan Sindel/Flash 90
credit: Mark Neyman/GPO
credit: Mark Neyman (GPO)
credit: Mark Neyman (GPO)
credit: פלאש90
credit: פלאש90
credit: פלאש90
credit: פלאש90
credit: פלאש90
credit: פלאש90
credit: פלאש90