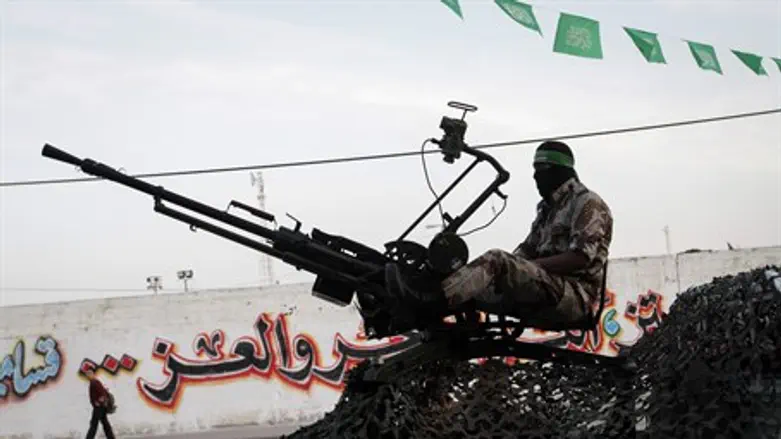 Hamas terrorist in Gaza
Abed Rahim Khatib/Flash 90
A day after five Israelis were murdered in an attack on a synagogue in Jerusalem's Har Nof neighborhood, fears were raised that terrorists in the Hamas stronghold of Gaza joined in on the attacks by opening fire on IDF soldiers.
According to reports the IDF force was in the Erez Crossing region to guard work on the border with Gaza, at which gunshots were heard. In response, the IDF deployed smoke bombs to provide security cover.
The IDF has clarified that terrorists did not fire into Israeli sovereign territory, and that none were wounded in the incident. Arab reports seem to indicate the gunfire occurred inside Gaza for some internal reason, possibly to celebrate a wedding.
Hamas has called for terrorist attacks this week, after an Arab Egged bus driver committed suicide on Sunday night. Despite the autopsy evidence proving it was a case of suicide, Hamas demanded "an escalation of resistance by any means."
That call was answered on Tuesday morning in the Har Nof attack, in which two Arab terrorists from the Jabel Mukabar neighborhood murdered four Jews as they prayed and a police officer with hatchets, knives and guns.
Hamas praised the attack, releasing in a statement "Hamas calls for more operations like it."
In the celebration of the attack, Hamas was joined by its unity partner, Palestinian Authority (PA) Chairman Mahmoud Abbas's Fatah faction, which feted the attack as a "heroic operation."
The Gaza border has been restive since the August 26 ceasefire that ended Operation Protective Edge. Gaza terrorists have fired rockets on several occasions, breaching the truce.
While Israel has been limited in its response to such instances, the Egyptian army has not been showing such leniency, recently expelling Gaza residents and demolishing their homes to create a buffer zone.