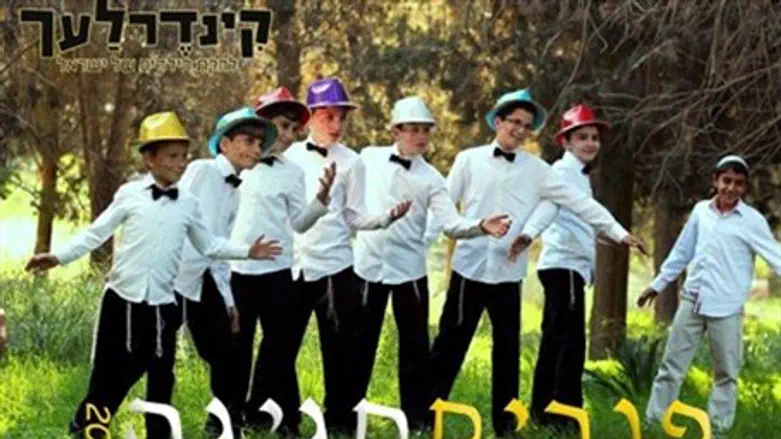 Kinderlach
Single Cover
A German fundraiser for the Sheba Medical Center in Tel HaShomer hit a discordant note after event organizers tried to prohibit the appearance of the Israeli boy band, Kinderlach, because some of the members live in Judea and Samaria. 
According to a report by Haddad Ofer for Channel 2 News, the controversial event was held a week and a half ago at the German presidential palace and was attended by journalist Daniela Schadt, the domestic partner of Germany's President, Joachim Gauck. 
Prior to the event, the members of the children's band were asked to provide their personal information for security purposes. 
Event managers announced a few days later that the security investigation which had been conducted indicated that three of the seven member of Kinderlach live over 1949 Armistice Lines, which they considered a problem. 
Therefore, they suggested, Kinderlach could either cancel the show entirely or perform without the three members who live in the "settlements." From the other perspective, the children's parents were opposed to any possibility that required their children to lie or deny their place of residence.
The parties finally reached a compromise. The children would not be asked on stage where they are from, and so, would not have to lie. The performance, thus, took place with the partial concealment of the identities of the children. 
The German embassy in Israel would not offer a comment on the incident. 
Sheba Medical Center responded to Channel 2's report stating that the "Medical Center's Administrators did not of such a thing. The opposite is true - the domestic partner of Germany's President affectionately hosted the event for the American Friends of Sheba at the official residence of the President in Germany." 
"It was an evening full of respect and salutation for Israel, and Sheba in particular. That evening vital donations were collected for the medical center."