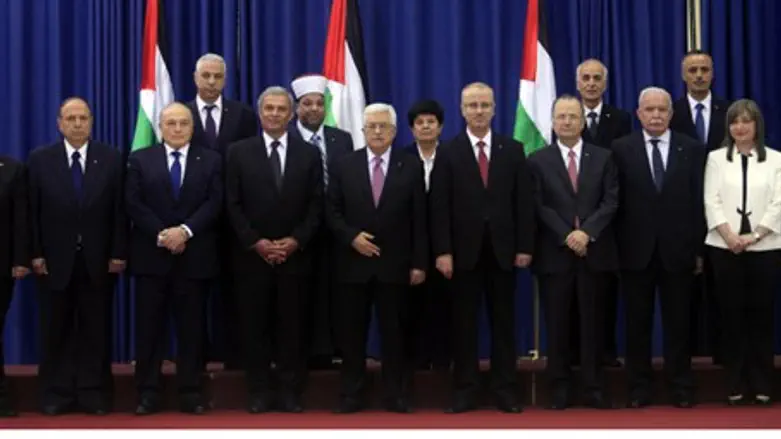 Swearing-in of unity government in Ramallah
Flash 90
A Hamas-affiliated member of the unity government that was formed between Hamas and Fatah, on Sunday accused the Fatah movement and its leader, Mahmoud Abbas, of thwarting reconciliation between the rival parties.
Speaking to the Bethlehem-based Ma'an news agency, Yahya Mousa accused Abbas of "thwarting reconciliation in favor of investment projects, security coordination with Israel and a war against political Islam."
He added that a reconciliation agreement was reached between Hamas and Fatah thanks to successive initiatives by Hamas.
"Whenever reconciliation moves a step forward, he takes several steps backward," Mousa told Ma'an.
He urged Abbas to "leave" because "he isn't part of the solution anymore, but rather a problem to the Palestinian national liberation project, and poses a huge threat to the Palestinian plight and to the unity of the Palestinian people."
Hamas and Fatah set up a unity government of independents in June after seven years of hostilities, fueled by Hamas's bloody takeover of Gaza in 2007.
The coalition, however, has been slowly crumbling over the past several months - despite recent efforts to present a "united front" to the international community. 
Differences of opinion have surfaced over several issues, including the war in Gaza, reactions to the abduction and murder of three Israeli teenagers, and the delayed payment of wages for government workers in Gaza in the weeks leading up to Operation Protective Edge. 
Tensions worsened after Hamas publicly executed dozens of Gazans allegedly "collaborating with Israel," but whom Fatah officials say were in fact members of their group singled out for their political affiliation. That incident prompted one Fatah official to compare Hamas to global jihadist group Islamic State (ISIS).
Not long beforehand, the IDF and the Israel Security Agency (ISA or Shin Bet) exposed a large-scale coup had been planned by Hamas in Judea and Samaria to overthrow the PA and Abbas's Fatah party, under orders given from Hamas officials abroad. 
Most recently, at least 10 explosions hit houses and cars belonging to senior Fatah members in Gaza, causing Fatah to cancel ceremonies in Gaza marking the 10th anniversary of Yasser Arafat's death.