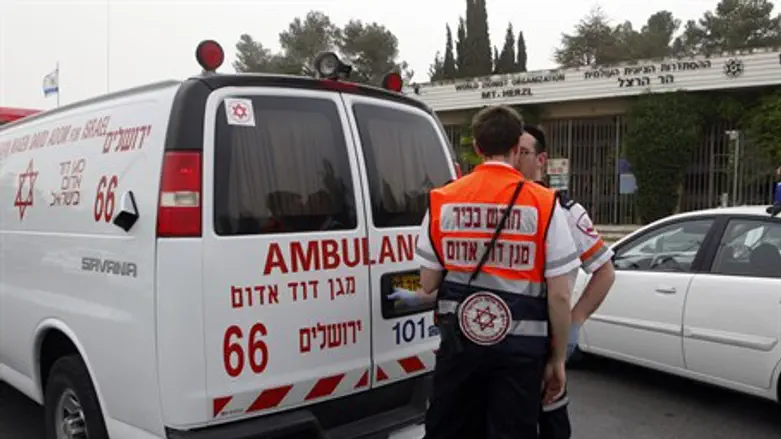 Ambulance (illustrative)
Uri Lenz/Flash 90
A Jewish man was stabbed by an Arab terrorist in Jerusalem on Sunday night, on Haneviim street - the latest in a string of terrorist attacks to hit the capital. 
The perpetrator, a 32-year-old Arab man, fled in the direction of the Damascus Gate (Sha'ar Shechem). Jerusalem police forces have set up roadblocks and begun an extensive search to locate him.
The victim - identified as a 35-year-old Breslov hassid - approached a group of border policeman immediately after the attack and alerted them to the stabbing. Police transported him to the entrance to the Kotel (Western Wall) where a team of Magen David Adom paramedics gave him medical treatment and took him, while fully conscious, to Shaarei Tzedek Medical Center in the capital.
His wounds are described as light-to-moderate.
This latest incident follows two deadly stabbing attacks last Monday.
In the first attack, a Palestinian terrorist stabbed to death 20-year-old IDF soldier Almog Shiloni in Tel Aviv - the first such attack in the city since the current escalation in violence began this past summer.
Just hours later, a 26-year-old woman was murdered by a terrorist outside the town of Alon Shvut in Gush Etzion, south of Jerusalem. Shocking CCTV footage showed how the terrorist first ran over Dalia Lemkos at a bus stop, before stabbing her to death in cold blood as she lay injured and defenseless on the ground.
Both terrorists in those incidents were detained by police - the latter after being shot and seriously wounded by a security guard. 
Those attacks themselves were part of a wider wave of Arab violence which has been sweeping the country, focused mostly in Jerusalem.
Six Israelis have been killed and dozens injured in the past month alone by Palestinian terrorists.