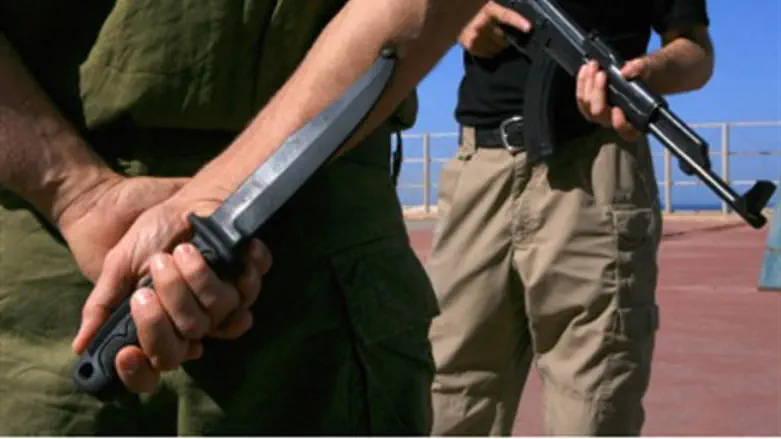 Terrorist with knife (illustration)
Flash 90
A 17-year-old Palestinian from Ramallah was arrested late Wednesday night at HaParsa Junction, near Dolev in Binyamin, on suspicion of planning to stab a bus driver in Jerusalem. 
Police officers from Modi'in Illit patrolling in the area noticed the suspect and stopped him to search his bag, where they found a large knife and a screwdriver. 
After a brief interrogation, the boy admitted he intended to hitchhike to Jerusalem to stab a a bus driver. He was transferred to the Israel Security Agency (ISA or Shin Bet) for further questioning. 
In a similar incident Wednesday night, a Palestinian in his 20s was arrested and taken in for questioning, after police found a knife on his person. 
At the entrance to the Cave of the Patriarchs in Hevron, Border Patrol forces stopped the young man who had aroused suspicions. Upon inspection they found a commando knife under his shirt. 
Upon noticing the man walking "suspiciously" near the holy site, a security source said: "We asked him to lift up his shirt when he was a few feet away. As soon as he did so, we saw a commando knife on his waist." 
When Border Patrol forces saw the knife on the body of the suspect, they cocked their weapons at him. The suspect panicked and threw the knife on the floor. Soldiers conducted a thorough search of his body, and eventually the suspect was arrested.
Despite attempts to communicate while the suspect was on the ground, he had apparently drank alcohol shortly before and was unable to cooperate with law enforcement. 
The suspect was then brought to the Hevron police precinct for further interrogation. 
"The forces showed vigilance, ending the incident quickly and professionally," said Amal Ghanam, acting company commander at the Cave of the Patriarchs. "Experience has taught us that in this area we must be alert and ready for any scenario at all times. There is no room for hesitation and no room for error."
"We will continue to pursue our important mission: maintaining the safety and the lives of citizens and of worshipers at the Cave of the Patriarchs," Ghanam concluded.