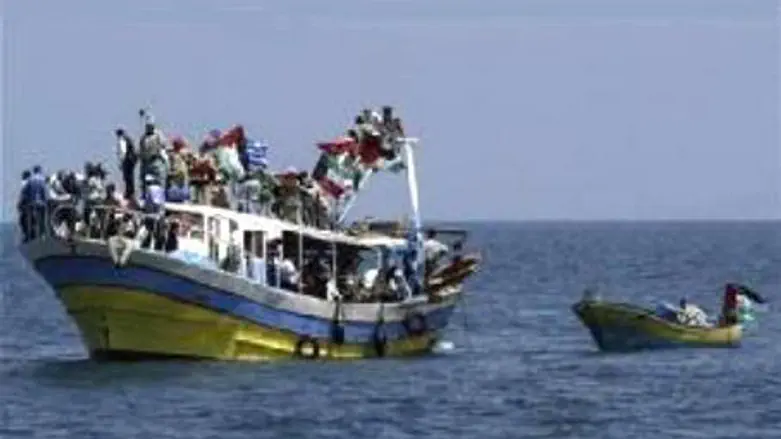 pirate boat
flash 90
One of the ZIM shipping company's cargo ships was attacked by pirates Wednesday afternoon in the Strait of Bab-el-Mandeb, adjacent to Somalia. 
Security guards stationed aboard the transport ship repelled the attack by the group of pirates who attempted to abduct the ship while in the middle of open waters. 
The incident occurred as the Israeli ship made its way from East Asia back to Israel. The ship sailed into an ambush when two pirate ships snuck up alongside the ZIM vessel, and the pirates attempted to get on board and take control of the ship.
Quick defensive action by the ship's security guards prevented the pirates from overtaking the ship. After while, the pirates gave up and retreated.
The strait of Bab el Mandeb, which links the Red Sea and the Gulf of Aden in the Indian Ocean, is considered to be a dangerous area, filled with extensive pirate gangs who hope to take ships hostage and hold them for ransom. 
Some pirates, who have successfully taken hold of cargo ships, have collected tens of millions of dollars for the release of the ship. 
In the past, Israeli cargo ships have either escaped from or fought off pirate attacks off the east coast of Africa.
The ZIM ship Africa Star was attacked twice in one week in 2010. In the first incident pirates were unable to board the ship, which escaped. A day later two pirate boats approached the ship and opened fire on it but were driven off when security guards shot back at them.
Although most Somali pirates operate purely for financial gain as part of criminal networks, some are affiliated with the Islamist Al Shabaab terrorist group, while many others have in the past sold captives on to the group.