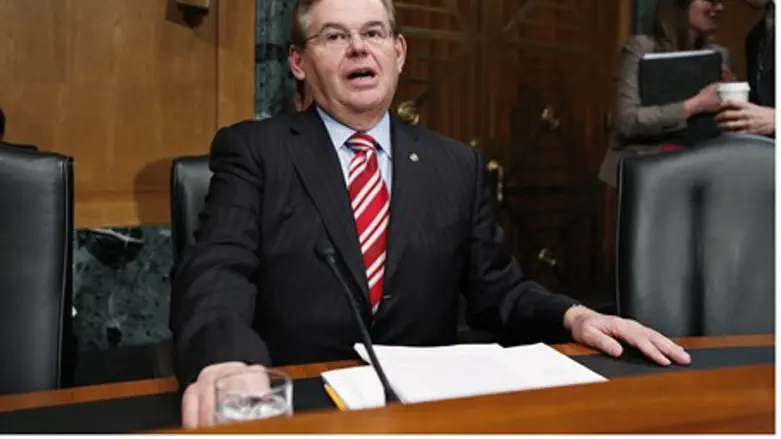 U.S. Senator Robert Menendez
Reuters
Congressional lawmakers are warning President Barack Obama they will work to increase sanctions on Iran if the administration makes what they consider a bad deal over Tehran's nuclear program, USA Today reports.
"We believe that a good deal will dismantle, not just stall, Iran's illicit nuclear program and prevent Iran from ever becoming a threshold nuclear weapons state," said a joint statement from Sens. Robert Menendez, D-N.J., and Mark Kirk, R-Ill.
Democrat Menendez and Republican Kirk added that any agreement has to include "stringent limits on nuclear-related research, development and procurement," as well as "a robust inspection and verification regime for decades."
Otherwise, they said, they would encourage Senate colleagues to place new sanctions on Iran.
Menendez and Kirk have been leading the push for new sanctions against Iran for quite some time now.
The two senators were the lead sponsors of a bill introduced late last year to impose new sanctions on Iran if international negotiations on curbing its nuclear ambitions falter.
The bill was gaining momentum in Congress, but Obama lobbied hard against it and has more than once threatened to veto the bill if it passes.
Another skeptic, Sen. Lindsey Graham, R-S.C., tweeted out his concern over the prospect of an Iran nuclear agreement: "If it is a bad deal, I will kill it."
The latest statements from the concerned senators come less than two weeks before the November 24 deadline for negotiations with Iran.
The United States and allies are offering to end sanctions if Iran agrees to forgo the means to make nuclear weapons.
Iran has been toughening its stance in recent weeks. Its chief negotiator recently said he sees no prospect for a deal unless the other side abandons its "illogical excessive demands".
A senior Iranian official followed those comments by declaring that Iran will demand that all Western sanctions be lifted as part of a final deal, rejecting an American proposal of a gradual lifting of sanctions.
Obama admitted on Sunday that there was a "big gap" between Iran and the six world powers, telling CBS News, "We may not be able to get there".