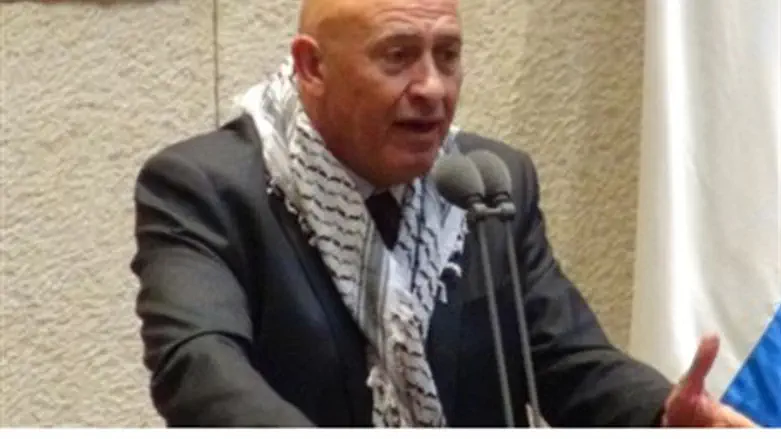 MK Ghattas with keffiyeh
Hezki Ezra
Arab MK Basel Ghattas (Raam Taal) mounted the podium in the Knesset plenum Wednesday with a keffiyeh – a traditional Arab shawl – around his neck.
He claimed that he wished to express his solidarity with Arab schoolchildren who he says were attacked because they wore keffiyehs.
Ghattas asked Minister of Public Security, Yitzhak Aharonovich, about the alleged connection between a comment he made, that terrorists should be killed, and the shooting death of a crazed knife-wielding Arab at Kafr Kana. He asked if Aharonovich is considering resignation.
"Your question is not worthy of a response," answered Aharonovich, "but I will nonetheless say that I have no intention of resigning, although it upsets you."
MK Miri Regev (Likud) asked Knesset Speaker Yuli Edelstein (Likud) to consult the Knesset rules and find out if it was permissible to mount the plenum with a keffiyeh.