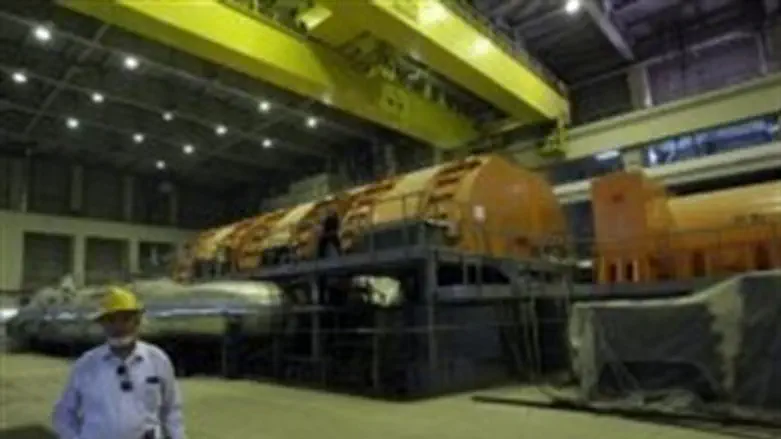 Bushehr nuclear power plant in southern Iran
AFP photo
The head of Iran's atomic energy agency, Ali Akbar Salehi, will travel to Russia Tuesday to sign a construction deal for two nuclear power plants on Iran's southern Gulf shores, AFP reported on Sunday.
Salehi's visit will cap months of negotiations between Iran and Russia, and comes as the Islamic republic faces a November 24 deadline for a long-term nuclear agreement with world powers.
"I am going to Moscow to sign an agreement for the construction of new nuclear power plants," Salehi was quoted as saying on Sunday by Iran's official IRNA news agency.
It quoted Tehran's ambassador to Moscow, Mehdi Sanaei, as saying on Facebook that the visit would take place on Tuesday.
Iran's Atomic Energy Organization spokesman Behrouz Kamalvandi, also quoted by IRNA, said Russia and Iran are set to "finalize and sign the agreement for the construction of two nuclear plants".
The two countries were recently finalizing the plans for Russia to build the nuclear power plants. Kamalvandi said back in June that after months of negotiations, the deal with Moscow would be signed and would see Russia building two more 1,000-megawatt plants next to Iran's sole existing plant in the southern Gulf port city of Bushehr.
Russia and Iran, which are both targeted by international sanctions, signed a number of trade and investment deals in September to help boost their economies.
One of the most important protocols involves energy, and would include creating a power network linking the two countries, for which Iran is desperate for investment.
Russia would also build 10 new conventional electrical power plants in Iran.
The Islamic Republic signed the Bushehr contract with Russia in 1995 and the nuclear power plant reached its full capacity by August 2012. The plant made headlines last year when it experienced a critical malfunction, leading some to believe that it had been the result of a cyber attack.