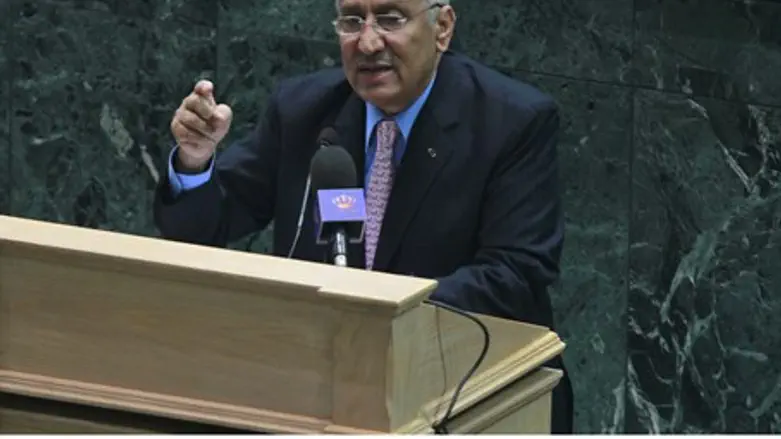 Jordan's Prime Minister Abdullah Nsur
Reuters
Jordan's Prime Minister, Abdullah Nsur, on Sunday criticized Israel over its actions on the Temple Mount, but ruled out the possibility that his country would cancel the peace deal with Israel, the Xinhua news agency reported.
Severing the deal will cause political, security and military consequences, he said, adding, "This issue is not under discussions at this stage."
If one needs to cancel the peace treaty, there should be an alternative, he added, according to Xinhua.
Nsur also said, however, that the ongoing tension over the Al-Aqsa mosque compound is inflicting a "stab wound" on the peace treaty between the two countries.
"Israel and Jordan are committed to peace and to respect the peace treaty, but this commitment is not just applicable to one side, it is a commitment by both," Nsur was quoted by AFP as having told reporters in Amman.
"What is happening is a stab wound to the idea of peace," he said, claiming that Israel's actions at the site were the result of a "clear" policy aimed at changing the decades-long status quo at the site.
"The Jordanian government condemns in the strongest possible terms the events of recent weeks in Jerusalem which are not the result of administrative errors or acts by a few extremists but rather a clear government plan to change the realities at the holy places," Nsur said, according to AFP.
The comments from the Jordanian prime minister came as Jordan's King Abdullah II reportedly cancelled Jordanian participation in a ceremony scheduled to begin this week marking 20 years of the Israel-Jordan peace treaty.
Despite Prime Minister Binyamin Netanyahu's reassurances to Abdullah by telephone Thursday that he has no intention of changing the status quo on the Temple Mount, despite the demands of Jewish activists, the cancellation was still implemented.
Jordan maintains control over holy sites in Arab-majority parts of Jerusalem via the Jordanian government-run Waqf Islamic trust, which expressly forbids Jewish prayer on Muslim holy sites.
Jordan's status as "custodian" on the Temple Mount, Judaism's holiest site, and elsewhere in Jerusalem is enshrined in the 1994 peace treaty with the Jewish state.
Recently, King Abdullah has come out vowing to fight any changes Israel makes to the status quo of Muslim holy sites. Last week, Jordan withdrew its ambassador from Israel, after violent Arab riots on the Temple Mount.
This is not the first time that Nsur has ruled out the possibility that the Jordan-Israel peace treaty will be cancelled. He made similar remarks several months ago, when Jordanian parliamentarians demanded the cancellation of the peace treaty in the wake of the killing of a Jordanian judge by Israeli soldiers.