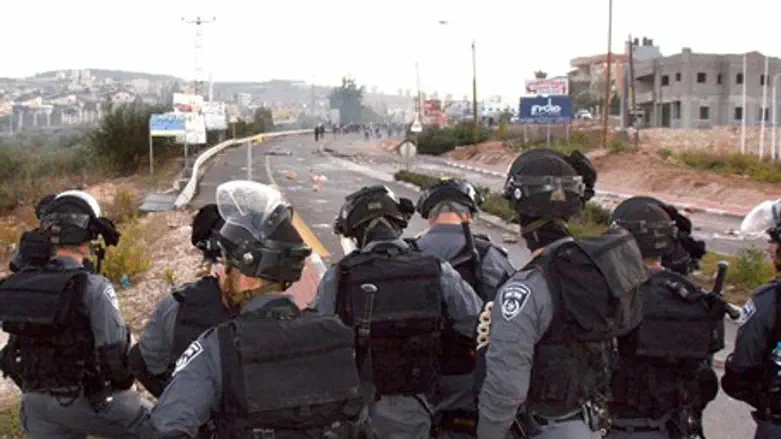 Police at Kafr Kana
Police Spokesperson
Clashes and demonstrations took place across Israel Sunday as police raised alert levels nationwide amid a wave of violence. More than 20 rioters were arrested.
Arabs threw rocks at a bus that traveled down Highway 1, near the Abu Ghosh junction. No one was hurt and there was no damage.
With shops, schools and business shuttered as Arab towns and villages observed a general strike, police raised the alert to one below the highest level and deployed in areas of friction, spokeswoman Luba Samri said.
The latest protests began early Saturday after police shot dead a 22-year-old in Kfar Kana near the northern city of Nazareth. Hir Hamdan was killed after he attacked police with a knife as they tried to arrest a relative.
The shooting brought angry crowds onto Kfar Kana's streets where around 2,500 people demonstrated as youths threw stones and burned tires.
The violence did not begin with Hamdan's shooting, however. Israel has been coping with a wave of unrest which has gripped eastern Jerusalem for more than four months, with police facing off against youths almost nightly, and terror attacks following each other in swift succession.
In Kfar Kana, up to 40 masked youths stoned police and set rubbish bins alight, Samri said.
Twenty people were arrested, among them minors, she added.
Student groups were also staging protests in Jerusalem, the northern port city of Haifa and in Beersheva in the southern Negev desert, with a major demonstration held at the northern town of Umm al-Fahm.
In strife-torn east Jerusalem, clashes raged in Shuafat refugee camp for a fifth straight day as masked youths held running battles with Israeli border police, an AFP correspondent said.
A resident of Shuafat deliberately ran over two groups of pedestrians Wednesday, murdering a border police officer and a teenager and injuring eight other people.
Prime Minister Binyamin Netanyahu vowed that anyone breaking the law would be "punished severely".
"We will not tolerate disturbances and riots. We will take determined action against those who throw stones, firebombs and fireworks, and block roads, and against demonstrations that call for our destruction," he told the weekly cabinet meeting.
He said he had instructed Public Security Minister Yitzhak Aharonovitch to examine the possibility of "revoking the citizenship" of anyone calling for Israel's destruction, in a threat clearly aimed at the Arab minority of around 1.4 million – some 20 percent of the population.
But several Arab and leftwing parliamentarians blamed the bloodshed on Aharonovitch who said last week that any "terrorist" who harms civilians "should be killed".