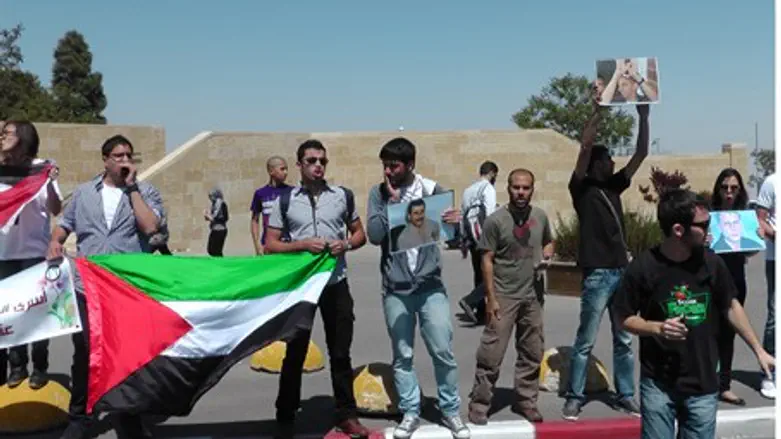 Arab students (file)
Hezki Ezra
Approximately one hundred Arab-Israeli students demonstrated Sunday at the entrance to Tel Aviv University (TAU), a day after demonstrations in Kafr Kana in the Galilee, against the death of resident, Hir Alhamdan, 22. 
Alhamdan was shot and killed by a police officer Friday night after reportedly lunging at a police car and making repeated stabbing motions toward the car's window.
About 5,000 residents of Kafr Kana demonstrated Saturday in protest of the shooting following Alhamdan's funeral. Dozens of youths set tires alight and hurled rocks and firebombs at police. Some bore signs saying "His only crime was being an Arab," and others shouted "Zionists, get out of our lives."
Demonstrations against the shooting also broke out Sunday at Haifa University where some 200 Arab and leftist students protested under the banner, "The charge: Arab. The punishment: death."
Indeed, much of Israel's Arab sector is on strike nationwide on Sunday, in "mourning and solidarity" with the family of Hir Alhamdan, with much frustration being vented toward Internal Security Minister Yitzhak Aharonovich. 
The demonstrators at TAU held up pictures of the deceased as well as Palestinian flags. They wore Palestinian keffiyehs and shouted in Arabic denouncing the incident.
Among other things, the protestors called out: "Israeli is a terrorist state," "Jerusalem is the capital of the Arabs," and "the deceased is a humble martyr."
More protesters openly declared that "we will continue to struggle, with blood and fire, to redeem Palestine and go back to Al-Aqsa."
One of the young protesters told Channel 10 News that he perceives himself as a Palestinian in every respect. "We are only ambassadors in Israel," he said, adding that "only the Palestinian flag represents us. We demand the rights that we deserve from the state."
A few dozen active students in the university's right-wing student cells, including parties, "Likud", "Jewish Home" and "Im Tirzu" rallied opposite the Arab demonstration.  They called the demonstrators "traitors" and "terrorists" and declared that "taking the blood of police officers is impermissible."
Dozens of police were stationed at the site of the demonstrations to prevent clashes between the two sides. The demonstrations ultimately ended without violence, and students returned to their studies.