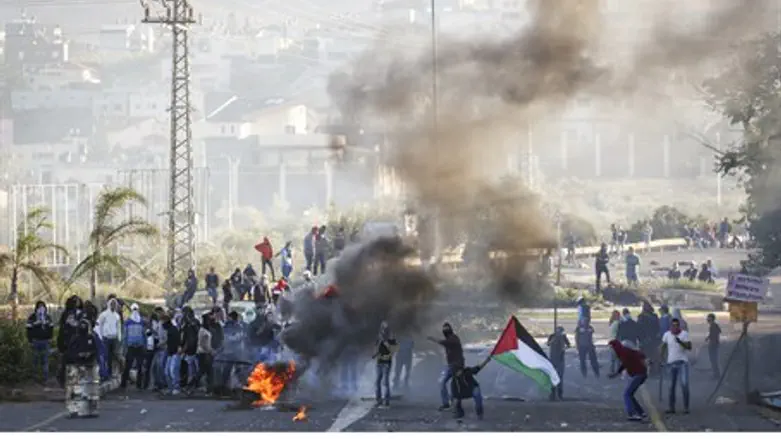 Israeli Arabs riot in Kafr Kana
Hadas Parush/Flash 90
Police Commissioner Yohanan Danino held a meeting Saturday to assess the security situation following the death of Hir Alhamdan, 22, and the ensuing riots and rock-throwing attacks in the Galilee, Samaria and Jerusalem, that broke out. 
The conclusion of those attending the meeting was to to raise the alert level in the country to Gimmel (C). This means that police forces will increase their presence at specific points of friction as well as the cities beleaguered by violence. 
Hir Alhamdan, a resident of Kafr Kana in the Galilee, was shot and killed by police on Friday night. Alhamdan reportedly lunged at a police car in an attack pose and repeatedly made stabbing motions toward the car's window.
Hamdan was buried in Qana Kheir on Saturday afternoon, but huge protests erupted shortly after his death. 
About 5,000 residents of Kafr Kana demonstrated Saturday in protest of the shooting. Dozens of youths set tires alight and hurled rocks and firebombs at police. Some bore signs saying "His only crime was being an Arab," and others shouted "Zionists, get out of our lives."
During the demonstration, three locals were arrested on suspicion of rioting and disturbances.
One hour after the riot, two forest fires broke out – at Akada and Mei Ami near Umm el Fahm. The suspicion is that they were acts of arson carried out in revenge for the young man's death.
Riots and violence also broke out in eastern Jerusalem and Samaria, Saturday with incidents of stone-throwing and firebombing. 
Two people were lightly wounded Saturday evening when rock-throwing Arab rioters attacked a bus traveling along Route 65 near the Iron region (Wadi Ara) police station in northern Israel.
Later Saturday evening three people were lightly wounded when the bus they were traveling on crashed into a barrier on the side of the road on Route 5 in northern Samaria (Shomron), near Barkan. The driver reportedly lost control of the bus after Palestinian attackers pelted it with large rocks.
In Jerusalem, dozens of Arab rioters hurled rocks and fireworks at police and security forces in A-Tur. Police used riot-control methods to disperse the attackers, and one Arab youth was arrested for disturbing the peace. 
Also in the capital, at least three rock-throwing attacks against the Jerusalem light rail were reported Saturday night in Beit Hanina. No injuries were reported but damage was caused to trains. Two residents of the Arab neighborhood Shuafat were arrested in connection with those attacks.
In Ras al-Amud, near Shiloach (Silwan), rioters also targeted security forces with rocks and firebombs. One of the rioters was chased into a nearby building and arrested by police along with another man who threatened arresting officers.
Overall, approximately 11 people were wounded in the attacks, including a 3-month-old baby boy, who was evacuated to Hadassah Ein Kerem with a head wound. 
Meanwhile, three Israelis are still being treated in critical condition at Shaarei Tzedek hospital in Jerusalem on Sunday, including two patients recovering from Wednesday night's brutal rampage near the Jerusalem light rail and one soldier who was hit by a terrorist near Gush Etzion later that same night. 
Three additional patients are in Jerusalem's other hospitals in fair condition, and a fourth is still being treated for light wounds. 
It is also estimated that even if the investigation into Hir Alhamdan's death will indicate that the shooting was justified, the entire Arab sector, and especially those in Kafr Kana, will find it difficult to accept such a verdict and riots will most likely continue today.
Gershon Mesika, head of the Samaria Regional Council, said of the incidents in Samaria that "this is lack of responsibility on the part of the State of Israel, which approved a budget months ago for protecting against stones, only to have theTreasury Ministry delay the transfer of funds." 
"I demand the immediate transfer of this budget for the protection against rock-throwing attacks on cars. Do not abandon our peace and the peace of our children."
Prime Minister Binyamin Netanyahu said, after the slew of attacks, in a statement that he would consider revocation of citizenship of those calling for Israel's destruction.
"Israel is a state of law. We will not tolerate disturbances and riots. We will act against rock throwers, road blockers and those calling for the establishment of a Palestinian state in place of Israel. Those who do not respect Israeli law will be punished very seriously."