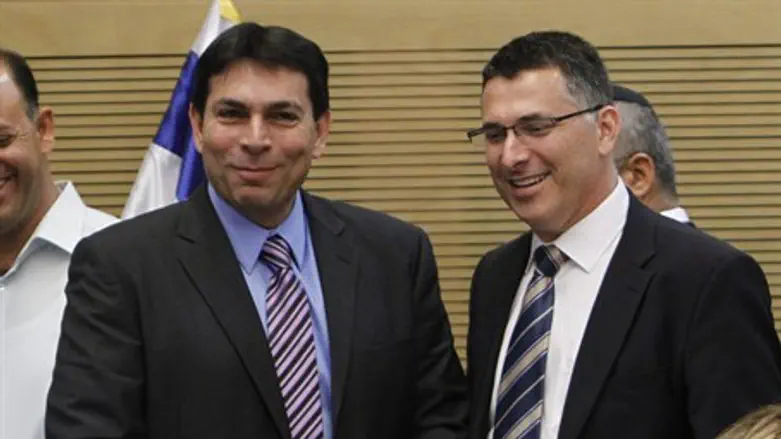 Danon and Sa'ar
Miriam Alster/Flash 90
MK Danny Danon (Likud) on Monday called for his party to conduct a "self-examination" following the resignation of Interior Minister Gideon Sa'ar.
Danon implicitly placed the blame for Sa'ar's resignation on Prime Minister Binyamin Netanyahu.
"The Likud lost a central player today. The departure of Minister Gideon Sa'ar and others from Likud is a serious blow, to the present and future leadership of the party," he said.
Danon hinted that Netanyahu was responsible for Saar's resignation, saying, "The leaders of the movement must conduct a self-examination and find out why central and important people are leaving the Likud."
"I have no doubt that Sa'ar will continue to make a significant contribution and influence the Likud movement in the future," he added.
Sa'ar recently unexpectedly announced he was leaving politics after the holidays, citing personal reasons.
Many have hinted, however, that it was personal tensions between Sa'ar and Netanyahu that caused Sa'ar to resign.
Monday's comments were not the first time that Danon has accused Netanyahu of splitting the Likud. Shortly after Sa'ar announced his resignation, Danon said that Netanyahu's policy of not allowing free expression and criticism are what led Sa'ar and former Minister Moshe Kahlon to leave the party.
"I know those two very well. They are quality people who want to contribute, and still will contribute," said Danon, noting that their choice to do so not in Likud highlights a very serious issue.
Meanwhile on Monday, Sa'ar officially resigned from the Knesset, a day after officially resigning from the government.