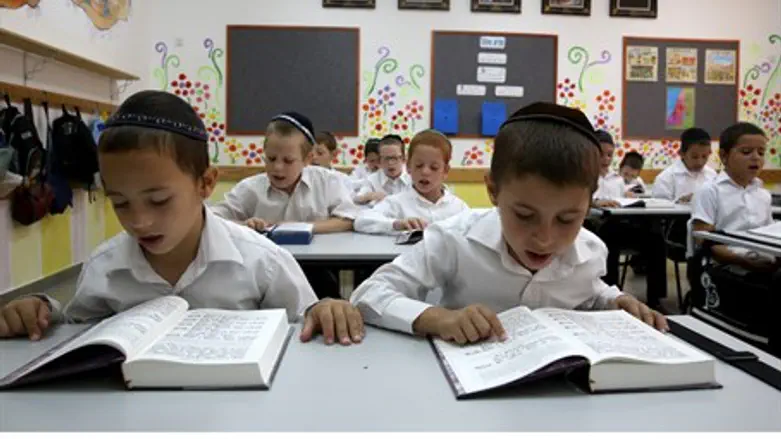 Children studying
Flash 90
More and more American Jews are turning to Orthodox day schools to educate their children, a non-profit organization revealed last week - and total enrollment is up 12% since 2008. 
Nearly 255,000 students are enrolled in 861 Jewish day schools,  from preschool to 12th grade, as of 2014, according to the Avi Chai Foundation.
Since 2008, 59 more Jewish schools have opened in the US as well, the survey revealed - and 26,437 more students are enrolled.
At least part of the upswing is due to birthrates in the hareidi community, with enrollment in hareidi schools jumping 60% in 15 years as well as 110% in Hasidic schools. 
Sixty percent of all Jewish students in day schools are hareidi, the survey also revealed and the trend is likely to show an even bigger gap between religious sectors. 
Since 2008, enrollment in Conservative day schools fell by a whopping 27%, with just over 9,700 students now enrolled in Solomon Schechter schools nationwide. Even fewer students attend Reform day schools; just 3,704 children, down 19% from five years ago. 
Modern Orthodox day school enrollment stayed stagnant in a 15-year period, with about 46,000 students total at 160 schools. 
In all, 37 states and Washington D.C. have Jewish day schools, according to Avi Chai. 75% of the schools are in the New York and New Jersey areas, with over 190,000 students total. 
The remaining 25% of students are spread out across the US, with the most in California (15,270), Florida (9,248), Maryland (7,556) and Illinois (5,248).