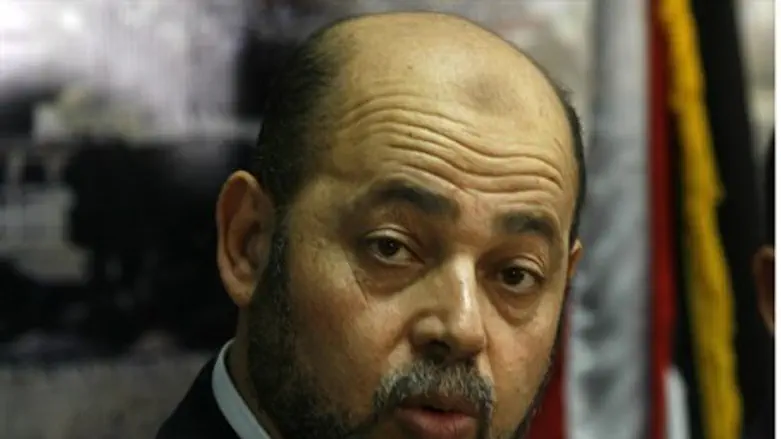 Moussa Abu Marzouk
Abed Rahim Khatib/Flash 90
After Hamas leader Ismail Haniyeh praised the murder of a three-month-old girl in Jerusalem by an Arab terrorist two weeks ago, Foreign Minister Avigdor Liberman hinted Haniyeh's daughter would not be given medical treatment in Israel again, after she was treated in Tel Aviv's Ichilov Hospital earlier in the month.
However, Israel's Coordination and Liaison Administration for Gaza on Monday confirmed that senior Hamas leader Moussa Abu Marzouk's 60-year-old sister has been allowed into Israel for cancer treatment, reports Walla!.
The sister, Halmiya Shahata, a resident of Rafah in southern Gaza, was given a permit to enter Israel for medical treatment according to the confirmation statement, which did not specify which hospital she is currently in Israel to receive treatment from.
In fact this is not the first time Shahata has been hospitalized in Israel, being as she suffers from an advanced stage of cancer.
Regarding Haniyeh, aside from his daughter's treatment less than two months after Hamas's recent terror war on Israel, his mother-in-law in June and granddaughter last November likewise received Israeli medical treatment.
Ichilov Hospital confirmed that Haniyeh's daughter, one of 13 children, "was indeed hospitalized for medical treatment for several days at the hospital. Over 1,000 patients from Gaza and the Palestinian Authority territories - both adults and children - are hospitalized for treatment at our hospital every year."
The revelation led Ofer Mendelovich, the bereaved father of Golani Brigade soldier Oz Mendelovich hy''d who was killed this past summer in the Gaza campaign, to remark that the treatment of the terror leader's daughter was sheer "stupidity."