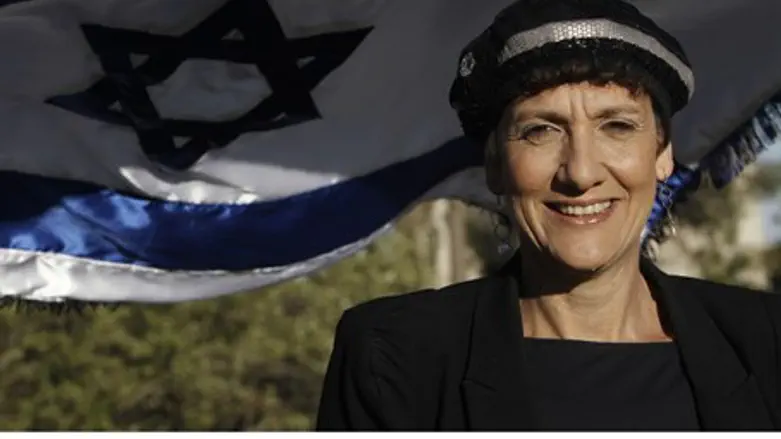 MK Shuli Mualem
Miriam Alster/Flash 90
Jewish Home MK Shuli Mualem became the latest Knesset Member to visit the Temple Mount following its brief closure last week, after Temple Mount activist Rabbi Yehuda Glick was gunned down in an attempted assassination.
Footage from her visit shows how Muslim worshipers - mainly women - subjected her to the same kind of harassment which other Jewish visitors are regularly accustomed to. Muallem retained her composure as dozens of Islamists hurled verbal abuse and shouted "Allahu Akbar!", with some having to be physically restrained from reaching her.
One Arab woman who attempted to physically assault her was detained for questioning by police.
Mualem's visit came a day after Likud MK Moshe Feiglin received similar treatment at the hands of Muslim extremists, who are determined to keep Jews from what is the holiest site in Judaism.
The visit by high-profile MKs - both members of the government coalition - is being seen as a symbolic act of defiance to Prime Minister Binyamin Netanyahu's declared intention to maintain the "status-quo" at the site, whereby Jews are forbidden to pray as a response to Muslim pressure, particularly that of the Jordanian government whose Waqf Islamic trust administers the site.
It also follows comments by Netanyahu in which he urged MKs to "show restraint" in order to calm the situation on the Mount, which has been particularly intense for several months following increased Islamist activity. The PM emphasized that Jews would continue to be allowed to visit, but than a ban on praying would remain.
Many argue that the arrangement is discriminatory and amounts to capitulation to terrorism.