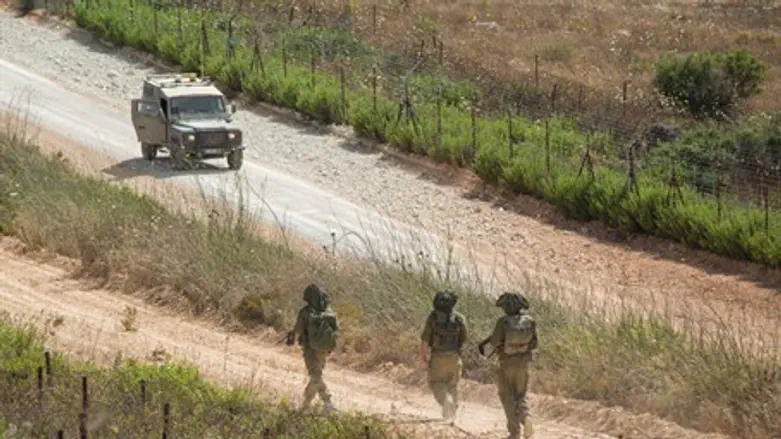 IDF troops patrol northern border
Flash 90
The debate over security incidents on Israel's northern border continues Sunday, as a "very senior" IDF officer told reporters on condition of anonymity that, in his estimation, Hezbollah is "uninterested" in starting a war with Israel right now. 
"Hezbollah has no interest in starting a war with Israel now," the officer stated to Channel 10 news. "There is no need to restore the security of northern communities - there is no justification for it, it's another burden on the security system."
The IDF officer added that Israel is confident over its ability to fight Hezbollah, noting that its terrorism tactics are now "very similar to Hamas's." 
"They use their civilian population as human shields no less than Hamas does," he said. "During the next conflict in Lebanon, we will concentrate our best forces in the north." 
He added that, despite rising concerns over escalating tensions on the northern border, there is "no need" to evacuate northern communities due to the threat. 
"This is a foolish approach," he said. "I see no [security] weaknesses in these communities." 
While the IDF has been playing down the northern tunnel threat, IDF sources have reported to Arutz Sheva that the army is covertly conducting an investigation of the threat.
The usage of similar attack tunnels by Syrian rebels in their fight against President Bashar Assad in rocky terrain similar to that found along the Israeli-Lebanese border has proven the feasibility of a Hezbollah tunnel attack.
Meanwhile, other security officials stated to Israel Radio last month that the IDF is, indeed, losing control along Israel's northern borders - and that any attacks by Hezbollah would be disastrous. 
Alarm has also been raised after the IDF and Defense Ministry cut guard duty near northern border communities - just one year after a similar move along the Gaza Belt saw an escalation in terror and, eventually, war. 
Northern residents have responded to the apparent apathy to the situation by arming themselves, and gun ownership along the Lebanese and Syrian border communities has risen as high as 60% in recent weeks. 
Hezbollah itself declared that it was "ready to fight Israel" last month.