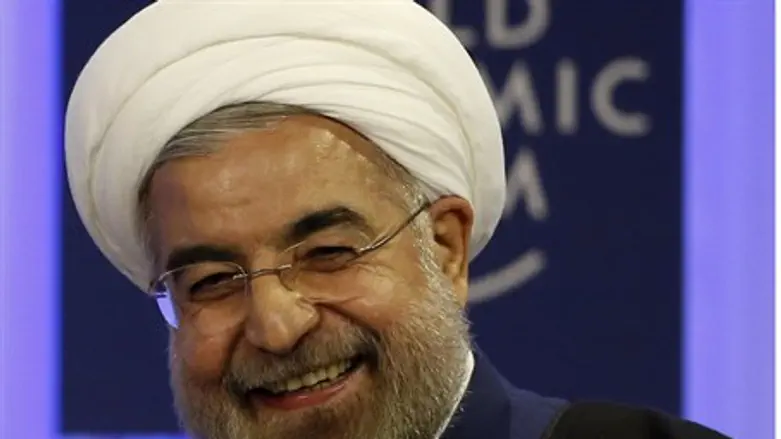 Iran's President Hassan Rouhani
Reuters
International Atomic Energy Agency (IAEA) director Yukiya Amano revealed last Friday that Iran is refusing to answer questions about whether or not its nuclear program has included activities to build a nuclear bomb.
Amano said at the Brookings Institute in Washington DC that his agency is waiting for information on "possible military dimensions," which Iranian President Hassan Rouhani has promised to deliver - and never gotten around to doing.
"What is needed now is action," said Amano, enumerating a list of around a dozen issues that Iran has refused to elaborate on for years, reports the New York Times.
"We cannot provide assurance that all material is for peaceful purposes," admitted the IAEA head. "The international community still has its doubts - it still wants clarification. That inquiry process will depend on Iran's level of cooperation."
US Secretary of State John Kerry is to hold high-level meetings to try and advance Iran nuclear talks in Geneva, which are bearing down on a November 24 deadline.
Amano continued, saying "Iran has a case to answer. I talked to President Rouhani, Iran is willing to accelerate the process of the clarification of the...issue. For now the progress is limited." 
He added that limited funds and increased demand for their service has the IAEA stretched thin, monitoring via satellite imagery from Vienna. The organization considers "state capabilities as a whole rather than focusing on individual facilities," Amano said.
An expert on the issue who asked for anonymity told International Business Times that the problem is with IAEA's resources, as only three people from the agency are investigating the military aspects of Iran's nuclear program.
One of the three is investigating centrifuges, of which Iran has demanded enough to build 38 nuclear weapons each year, and two other investigators are looking into Iran's potential to weaponize nuclear material.
Intelligence Minister Yuval Steinitz (Likud) responded to the IAEA admission, saying "Iran's refusal to reveal its nuclear past casts a heavy shadow on the future. Only a complete exposure of the nuclear tests conducted in the past will allow a satisfactory deal regarding the future."
"Amano's serious words effectively show the first Iranian breach of the intermediate agreement, that was based on understandings about full cooperation by Iran with the IAEA. Signing a final deal on conditions like this is haphazard and the world powers must avoid it," said Steinitz.
Last Tuesday, US officials revealed that despite Iran's calls to destroy Israel, US President Barack Obama's administration has been cozying up to Iran, as well as Iran proxy terror groups Hamas and Hezbollah, with secret communication channels and intelligence sharing.