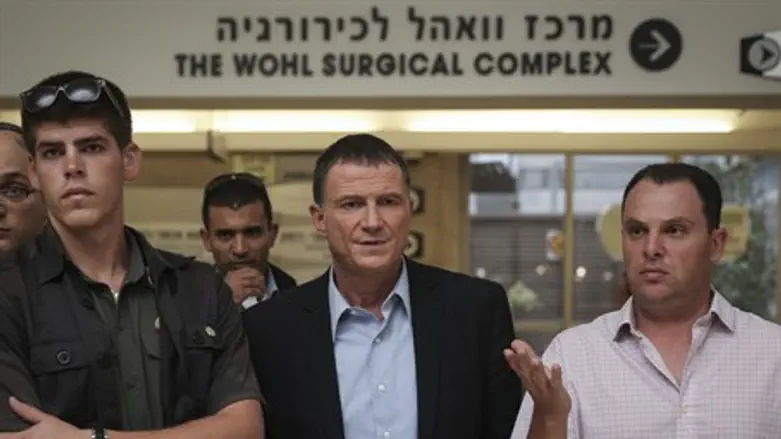 Yuli Edelstein visits Yehuda Glick
Hadas Parush/ Flash 90
Knesset Chairman Yuli Edelstein (Likud) on Thursday went to Shaare Tzedek hospital in Jerusalem to visit Temple Mount activist Yehuda Glick, who was put in critical condition by an assassination attempt in the capital Wednesday night by an Arab terrorist who was later eliminated.
Speaking to Arutz Sheva, Edelstein remarked "this is probably the second time in the history of this country when a person has been attacked - actually an attempted murder - because of his views and political activities."
Apparently Edelstein was referring to the assassination of former Prime Minister Yitzhak Rabin in 1995 after he signed the Oslo Accords.
Both before and after Rabin's murder there were in fact other high-profile cases of assassination for "views and political activities," most notably the 1990 assassination of former MK Rabbi Meir Kahane hy''d by an Arab terrorist in New York, and the assassination of his son Binyamin Ze'ev Kahane and his wife Talia hy''d in a 2000 shooting on their car in Samaria that critically wounded their five daughters.
Addressing the current wave of terrorism in Jerusalem, Edelstein continued "I would call upon all those, especially the Arab residents of Jerusalem, to understand that their unrest, their stone throwing, their violent demonstrations finally lead to terror attacks on innocent people."
The terror must be stopped, emphasized Edelstein, adding "we have to allow free prayer for all religions on the Temple Mount."
Glick has championed the push for Jewish prayer rights on the Temple Mount, the holiest site in Judaism, and sought to fight the discriminatory practices of the Jordanian Waqf (Islamic trust) that has remained in de facto control of the site and forbidden Jewish prayer.