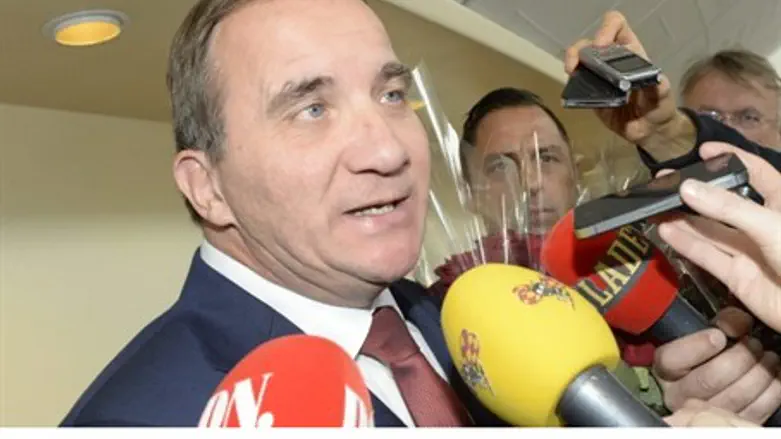 Stefan Lofven
Reuters
Sweden on Thursday officially recognized the Palestinian Authority (PA) as the "state of Palestine," Stockholm's foreign minister said, less than a month after the government announced its intention to make the controversial move.
"Today the government takes the decision to recognize the state of Palestine," Foreign Minister Margot Wallstrom said in a statement published in the Dagens Nyheter daily.
"It is an important step that confirms the Palestinians' right to self-determination," she said, adding that "we hope that this will show the way for others."
The PA immediately hailed the decision.
"President [Mahmoud] Abbas welcomes Sweden's decision," spokesman Nabil Abu Rudeina told AFP, saying the Palestinian leader described the move as "brave and historic." 
"This decision comes as a response to Israeli measures in Jerusalem," he said.
Abbas called for other countries to follow Sweden's lead.
"All countries of the world that are still hesitant to recognize our right to an independent Palestinian state based on 1967 borders, with east Jerusalem as its capital, (should) follow Sweden's lead," his spokesman quoted him as saying.
Sweden's new Prime Minister Stefan Loefven announced in his inaugural address to parliament in early October that his country would become the first EU member in western Europe to recognize a Palestinian state.
While the Palestinians cheered the move, Israel summoned Sweden's ambassador to protest and express disappointment. Prime Minister Binyamin Netanyahu added in an official response that "unilateral measures" wouldn't help bring peace to the region. 
Israel has long insisted that the Palestinians can only receive a state through direct negotiations and not through other diplomatic channels.
Seven EU members in eastern European and the Mediterranean have already recognized a Palestinian state - Bulgaria, Cyprus, the Czech Republic, Hungary, Malta, Poland and Romania. Non-EU member Iceland is the only other western European nation to have done so.
The United States cautioned Sweden against recognition, calling it "premature" and saying the Palestinian state could only come through a negotiated solution between Israelis and Palestinians.
In Thursday's announcement, Sweden's foreign minister said that "the government considers that international law criteria for recognition of a Palestinian state have been fulfilled."
EU countries have rushed to declare the PA a "state," despite the fact that PA Chairman Mahmoud Abbas officially inaugurated Hamas - an Islamist terror group which is officially blacklisted by the EU - as a "unity partner" in the government earlier this year. 
Meanwhile, the UK's own recognition of a "Palestinian state" in a landslide vote of 274 to 12 earlier this month, while non-binding, has sparked uproar from local politicians and Israeli ministers alike - with Intelligence Minister Yuval Steinitz blaming the move specifically for an upswing in terrorism.