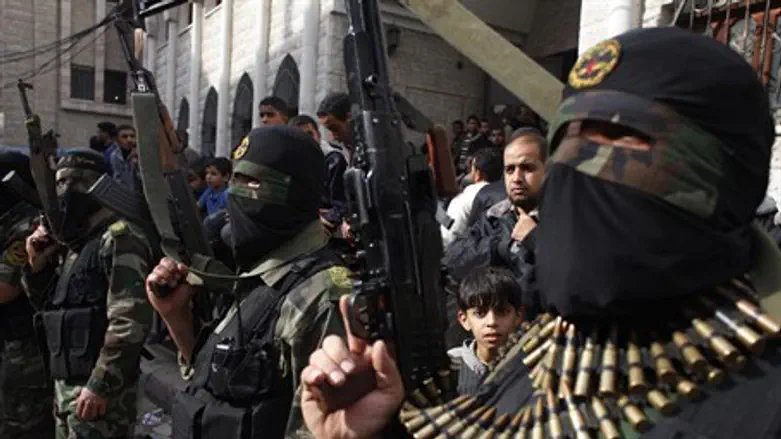 Islamic Jihad terrorists in Gaza (file)
Reuters
Islamic Jihad has claimed responsibility for the attempted murder of Temple Mount rights activist Yehuda Glick Wednesday night, according to Channel 2. 
"The assassination attempt on Glick is an act of Palestinian vengeance, in response to what is happening in Jerusalem," an Islamic Jihad spokesman stated Thursday.
Glick - who founded and heads the LIBA Initiative for Jewish Freedom on the Temple Mount - was shot in the chest on Wednesday night outside the Begin Heritage Center in Jerusalem, after the shooter pulled up in a motorcycle or scooter and confirmed his identity before shooting. 
He had been speaking, minutes before being shot, at an event for Jewish rights on the Temple Mount that had hosted leading religious figures and MKs. Likud MK Moshe Feiglin with with Glick as he was shot. 
Earlier Thursday, Israeli Special Forces (Yamam) eliminated 32 year-old Mu'taz Hijazi of Abu Tor in East Jerusalem, the prime suspect in the shooting, after he resisted arrest. 
The attack is the latest major incident in Jerusalem, after a Hamas terrorist rammed his car into a pedestrian walkway near the Jerusalem light rail earlier this month, fatally wounding a three month-old baby and a seminary girl. Then, too, Hamas called the attack "revenge" for a police crackdown on violence in Jerusalem. 
Days later, Hamas official Mahmoud Al-Zahar called the constant cycle of violence - which has seen terror attacks in Jerusalem swell from 200 attacks to 5,000 monthly since July - a "third intifada," and called on Palestinian Arabs to join.