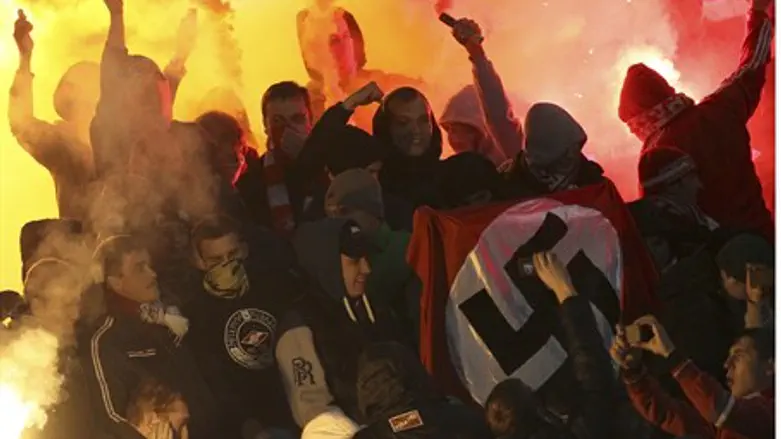 Neo-Nazis (illustrative)
Reuters
An entire German high school class is being investigated by authorities, the Daily Mail reports Wednesday, after the 29 ninth-graders were found to have been communicating to each other in Nazi slogans on a regular basis.
Students in class 9A at the Landsberg Gymnasiums near Leipzig had formed a specialized WhatsApp group for the anti-Semitic comments, and regularly made anti-Jewish slurs and posted photos of themselves making the 'Heil Hitler' salute, local media reported.
German newspaper Bild even published several photos of the students - with their faces blurred - who had also donned 'Hitler mustaches' and called the cultivator of the Holocaust a "great man." 
Horrified parents have insisted that only some of the children were guilty of making the remarks, and accused the media of blowing the incidents out of proportion. 
But Eli Gampel, 54, the former head of the local Halle Jewish Community, stated that his own son in 9A had experienced harassment from someone at school, and that a "massive taboo" had been placed on the incident in the class. 
"Even after I read about it, I found it difficult to get him to talk about what went on," he said. "It was only through a lengthy discussion that he admitted what was in the newspaper article was essentially true."
Gampel filed a formal police report on the incident - but stressed that he, too, believes that purported neo-Nazism in the class may be overblown. 
"It would definitely be the wrong thing to simply accuse the entire class and tar them with the same brush," he maintained. 
School principal Lutz Feudel said that the entire school is "in shock" over the media reports, and added that he, personally, does not want to believe that the entire class was intentionally doing anything more than "breaking taboos."
Display of Nazi symbols in Germany is a crime punishable by six months' prison time, and all German students visit Nazi concentration camps as part of their general education on the crimes of the Nazi regime. 
Anti-Semitism throughout Europe reached record highs during the past few months as incitement and attacks against Jews - mostly led by Muslim the extremists, but also elements from the far-right and far-left - left Jewish communities throughout the continent in a state of shock.
Germany's Jewish community in July, at the height of the fighting between Israel and terrorists in Gaza, condemned an "explosion of evil and violent hatred of Jews" at pro-Palestinian rallies where some demonstrators chanted that Jews should be "gassed".
The spate of ugly incidents that deeply unsettled Germany's resurgent 200,000-strong Jewish community also saw a petrol bomb hurled at the facade of a synagogue in the western city of Wuppertal. Three people, described as "Palestinian" nationals, have been arrested in connection to that attack.
Anti-Semitism has become so high recently that German Chancellor Angela Merkel, along with Jewish leaders, spearheaded a rally in a central Berlin square against Jew hatred in September.