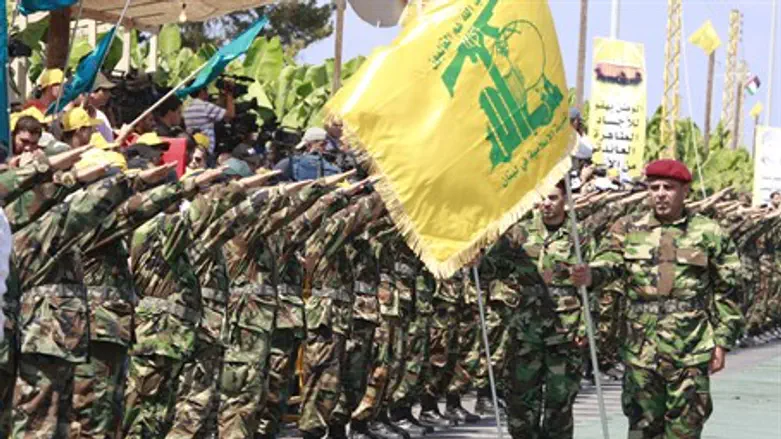 Hezbollah terrorists (file)
Reuters
A senior IDF commander on Wednesday acknowledged to Galei Tzahal (IDF Radio) that the Iran-proxy terror group Hezbollah in Lebanon has likely dug terror tunnels into Israel.
IDF Northern Commander Maj. Gen. Yair Golan equivocated by noting on Hamas's use of terror tunnels, saying "we have no positive information meaning that there are tunnels. The situation is not similar to what there was around the Gaza Strip," reports Reuters.
"That said, this idea of going below ground is not foreign to Lebanon and is not foreign to Hezbollah and so we have to suppose as a working assumption that there are tunnels. These have to be looked for and prepared for," revealed Golan.
Golan in August responded to northern citizens, who reported hearing digging sounds under their homes and seeing cement mixers and construction trucks carting out earth on the Lebanese side under the cover of greenhouse structures, by saying the IDF hadn't found Hezbollah terror tunnels - yet.
While the IDF has been playing down the northern tunnel threat, IDF sources have reported to Arutz Sheva that the army is covertly conducting an investigation of the threat.
The usage of similar attack tunnels by Syrian rebels in their fight against President Bashar Assad in rocky terrain similar to that found along the Israeli-Lebanese border has proven the feasibility of a Hezbollah tunnel attack.
"We won't be able to use Iron Dome"
Golan warned that with Hezbollah's rocket arsenal - thought to be ten times more powerful than that of Hamas - and the high elevations and inclinations, "we will not be able to provide the umbrella that was provided in the south by Iron Dome."
"We and Hezbollah are conducting a kind of mutual-deterrence balance. There is no absolute deterrence. Each side has its pain threshold, its restraint threshold, which when passed prompt it to take action," assessed Golan.
The statements comes after Hezbollah terrorists wounded two IDF soldiers earlier in the month with explosives set along the border. Security sources warned Israel may be in danger of "losing control" of the Lebanese border, after one IDF source caused a panic last month by warning Hezbollah could hypothetically invade parts of the Galilee for "several hours."
While Israel this month asked the UN to demand the disarmament of Hezbollah following the explosive attack, instead, a UN envoy met with Hezbollah's deputy leader.
American and Arab officials likewise revealed this week that US President Barack Obama's administration has been cozying up to Hezbollah, along with Iran and Hamas, by providing intelligence information and using backdoor communication channels.