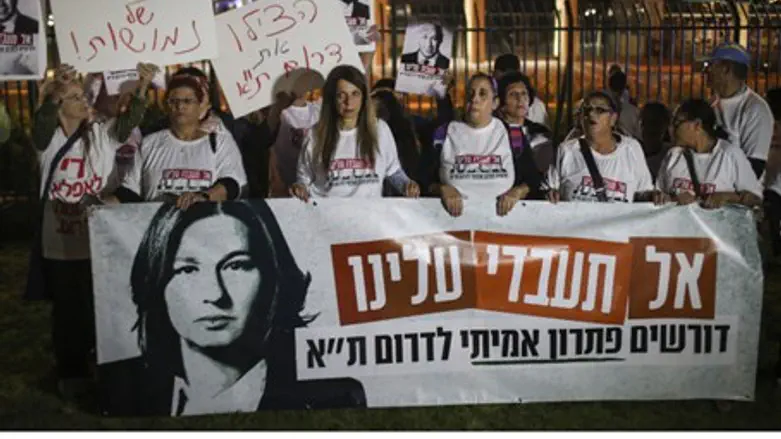 Protests over Infiltrator Law. 10/27/14
Hadas Parush/Flash90
Dozens of residents of south Tel Aviv demonstrated in front of the government complex in Jerusalem on Monday night, demanding an end to the constant flow of infiltrators into the city which is driving crime rates sky-high. 
"Bring back our neighborhoods now!" protestors screamed. A protest tent was also erected outside. 
Shefi Paz, protest organizer and resident of South Tel Aviv, explains that an amendment to be able to veto the High Court of Justice's decision on the issue may not be enough.
"We will not settle for an amendment or another superficial replacement for a law preventing infiltration," Paz stated. "We demand that the government immediately stop the infiltrators flowing into our neighborhoods, and to restore residents' security." 
Jonathan Yaakovich, of the Center for Immigration Policy in Israel, was also at the protest.
"For the first time we are witnessing a united front of the residents of south Tel Aviv, requiring the government to find a comprehensive and fast solution to the downfall of our neighborhoods," Yaakovich stated. 
Residents of south Tel Aviv sat in protest tents from the morning hours with the intention of remaining at the site in the coming days as well. Knesset members and passers-by came to the protest tent and expressed solidarity with Tel Aviv residents.
The residents have been suffering from endless harassment, as well as fear and violence perpetrated by the many illegal Eritrean and Sudanese infiltrators who enter Israel to find employment and come to live in their working class neighborhoods. Many Jewish residents say they are terrified of leaving their homes and have begged the government to take action.
While an endless cycle of violence has been happening in those neighborhoods for years, controversy has sparked again after the High Court's decision to strike down key sections of the Infiltrators Law, which made it possible to detain illegal immigrants without trial for up to one year.
The issue is a matter of public perception versus public safety. While proponents of the High Court ruling argue that the detention center- which provided free food, education, health services, and employment training for infiltrators - is a "human rights" issue, a direct correlation has also been made between infiltration and violent crime. 
The violent crime rate in south Tel Aviv is now several times higher compared to the average for other sections of the major city. Sexual offenses in neighborhoods with large percentages of infiltrators are recorded to be occurring at a rate 3.5 times higher than found in the general population, violent crime 2.5 times higher than in the general population, and robbery 6 times higher than in the general population.
credit: Hadas Parush/Flash90
credit: Hadas Parush/Flash90
credit: Hadas Parush/Flash90
credit: Hadas Parush/Flash90
credit: Hadas Parush/Flash90
credit: Hadas Parush/Flash90
credit: Hadas Parush/Flash90
credit: Hadas Parush/Flash90
credit: Hadas Parush/Flash90