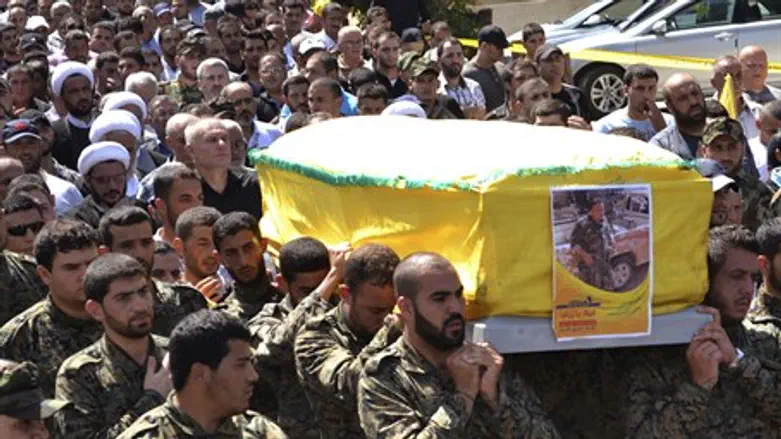 Hezbollah funeral, September 13th
Reuters
Mustafa Shehadeh, one of the senior military commanders of the Lebanese terrorist organization Hezbollah, died Sunday following a long illness, according to news agency Al-Manar. 
Shehadeh is one of the founding member of the Shi'ite organization, and his name had come up in the past as one of the potential heirs to Imad Mughniyah, the head of the military wing, after Mughniyah was assassinated in Damasucs, Syria in 2008. 
He was nominated for the role because of his vast military experience as well as the fact that he had not received much media coverage and therefore remained behind the scenes. 
What Shehadeh's exact role in the organization was is not known. But it was reported that Shehadeh, also known as Abu Ahmad, held various positions in Hezbollah, including the military commander of the organization in southern Lebanon and the commander of International Operations. 
He was apparently responsible for several well-known terrorists actions throughout the world including the resort attack in Burgas, Belgium in July 2012. 
In that incident, a suicide bomber blew himself up in passenger bus transporting 42 Israeli tourists from the Burgas Airport to their hotels. The ensuring explosion killed the Bulgarian bus driver and five Israelis.
Shehadeh was also involved in operation of a terrorist cell in Thailand, and a suicide attack near the Jewish Community Center in Buenos Aires in 1994. 
He is also infamously known for opening fire at Syrian soldiers when they tried to storm Hezbollah barracks in Beirut in 1987.
Hundreds of people attended Monday's funeral for Shehadeh, which was held in Kunin in southern Lebanon.
Among the mourners were Shi'ite leader and former Israeli prisoner, Abdel Karim Obeid, Ahmed Safi al-Din, Hezbollah's southern Lebanon commander, as well as other prominent members of the organization.