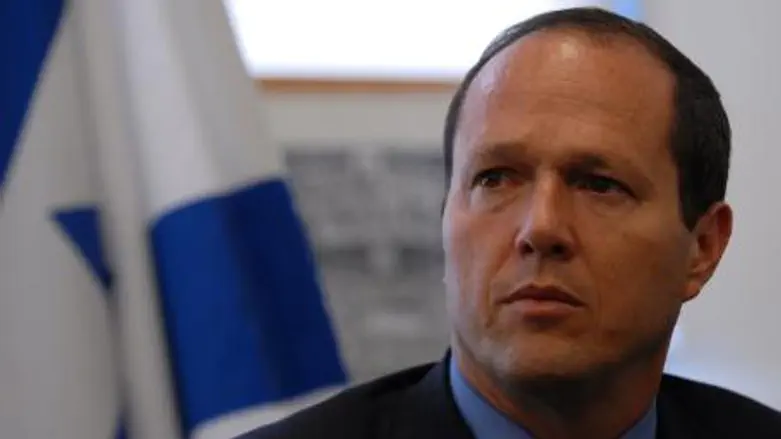 Mayor Nir Barkat
Israel news photo: Flash 90
Jerusalem Mayor Nir Barkat outlined the sorry state of security in the capital Monday, in a session of the Knesset's Interior Committee.
Barkat disputed the claims that the deterioration in security began around the time of Operation Protective Edge in Gaza.
"Even before Operation Protective Edge, the state of affairs in Jerusalem as regards riots, rock throwing and enforcement was shoddy. We were talking about 200 events of rock throwing [per month]. Even before Protective Edge, we held a discussion about the changes needed to bring back the rule of law in Jerusalem."
"The Arab residents are complaining about the situation no less than the Jews," he noted.
Video shows riots near the home of the terrorist from Silwan (Shiloach) who ran over 9 people, killing a three-month-old baby and a 22-year old woman (click on black frame if video is not visible).
"Protective Edge began – and we jumped from 200 events to 5,000 events. Throwing rocks on cars is life-threatening, as is throwing firebombs at the homes of Jews who live in Arab neighborhoods. There is a huge mass of disturbances. The Jerusalem police fanned out with its available forces as defense. It defends Jewish homes and the seam line, and we all realize this cannot continue."
MK Miri Regev, the committee chairperson, accused the police of failure to provide security in Jerusalem in general and on the Temple Mount in particular. "East Jerusalem is a part of Jerusalem, this is our capital," she stressed. "A person who riots in Jerusalem should be treated just like someone who riots in Taibeh or Tel Aviv."
Public Security Minister Yitzhak Aharonovich claimed that the deterioration began at the time of the abduction and murder of three yeshiva students, which was followed by the murder of an Arab teen, and that matters got worse during Operation Protective Edge and then "the holiday season."
He denied that there are orders to police not to enter Arab villages to apprehend the perpetrators of attacks and said that there have been almost 900 arrests, and about 300 charge sheets have been filed, since the present wave of violence began. About 1,000 policemen from special forces have been added to the Jerusalem police force, he said, and in addition, there are discussions with the Economics Ministry about stopping the import of firework hives.
"I asked to slap a fine on parents of rock throwers and this was approved," he added. "Harming the parents financially will restrain the children."
In addition, Prime Minister Netanyahu on Monday issued instructions to speed up the legislation of a law stiffening punishment for rock-throwers, which would mandate prison terms of up to 20-years in some cases.
It follows the formation of a special police task force specifically to deal with the violence in Jerusalem.