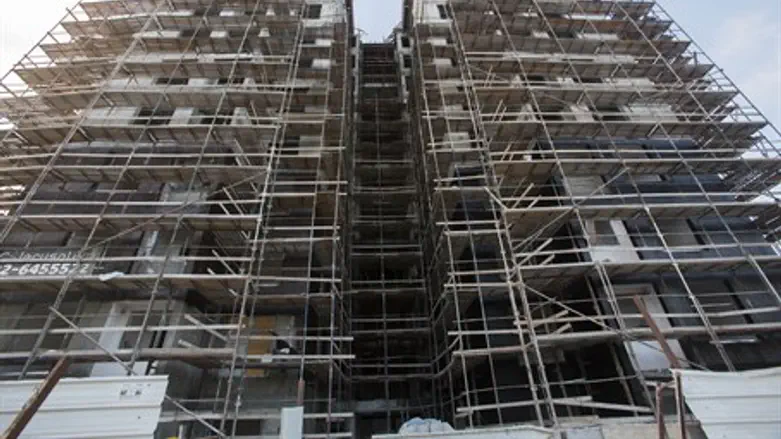 Construction site (illustration)
Flash 90
Prime Minister Binyamin Netanyahu has given the green light for construction of about 1,000 new housing units in Jerusalem, in what some are spinning as an end to the building freeze in Jerusalem, Judea and Samaria – an unofficial freeze that Israel took upon itself under US pressure during the Obama presidency.
Netanyahu has given instructions for the building of about 660 homes in Ramat Shlomo, in northern Jerusalem, and about 400 more in Har Homa, in the capital's southern section.
In addition, he has given the go-ahead for infrastructure projects in Judea and Samaria that are needed for reasons of security and safety.
The move was first reported Sunday on Channel 2, and is seen as a bid to strengthen the alliance with the nationalist wing of the coalition. It reportedly follows a meeting between Netanyahu and Jewish Home leader Naftali Bennett, who has threatened to destabilize the coalition if the unofficial - but very real - building freeze is not ended.
Ze'ev Hever, a veteran leader of the settlement enterprise in Judea and Samaria, was also reportedly present at the meeting.
According to the report, Bennett told Netanyahu that it is obvious that neither Tzipi Livni (Hatnua) nor Yair Lapid (Yesh Atid) want elections at this time, and that this situation should be exploited for construction in Judea and Samaria.
According to Channel 2, 12 new roads will be created, including a road circumventing the Hawara neighborhood south of Shechem, new roads to Emanuel and Eli, and a widening of Highway 60. In addition, several "students' villages" are planned, as are new parks and a boardwalk in the Etzion Bloc in memory of murdered yeshiva students Eyal Yifrah, Naftali Frenkel and Gilad Sha'ar.
The move could also be connected to the possibility of fresh elections and upcoming primaries in the Likud, with Netanyahu looking to bolster his flagging ratings among right-wing voters.