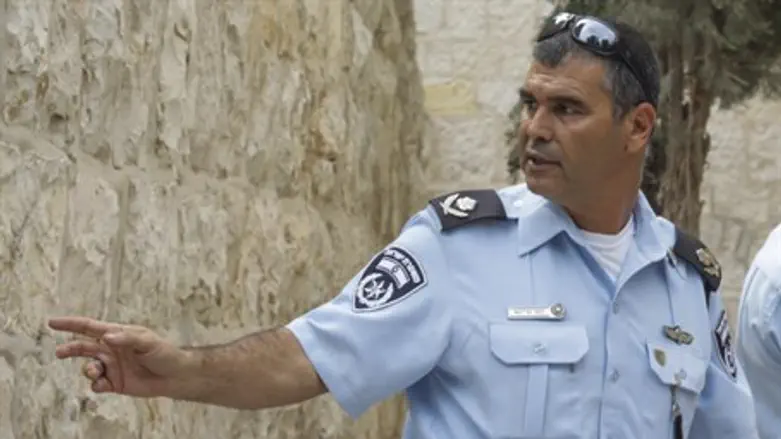 Police Chief Yossi Pariente
Israel news photo: Flash 90
A woman who was employed as the housemaid of recently retired Commander of the Jerusalem Police Maj. Gen. Yossi Pariente has admitted that she lied about being sexually exploited by him, according to IDF Radio.
"I made it all up," the maid now reportedly says.
Pariente retired surprisingly last week, and the housemaid's allegations appear to have been a major consideration in his decision to cut short his career. The woman, who used to clean the Parientes' home in Jerusalem, claimed that she had an affair with him for two years, and that he sexually harassed her.
The allegations reached the Justice Ministry's Police Internal Investigations Department (Machash) three years ago. Machash found that the housemaid was lying and decided to close the investigation; however, the maid did not give up and continued to spread her allegations, contacting journalists in the process.
Over the weekend she called various people in the police and in the Public Security Ministry, as well as a lawyer, and confessed to them that she had made everything up, and that there had never been any physical contact between her and Pariente, reports Channel 2's news website Mako.
She said that her conscience is weighing heavily on her and explained: "He did not want me and I was in love with him."  
Her reason for coming forward, according to Mako, is that she fears Pariente will now sue her for libel. She asked to meet with the Minister for Public Security and tell him the truth – as long as she receives protection from a lawsuit.
Leading criminal lawyers have claimed that allegations of male sexual misconduct against women are extremely hard to disprove in Israel's court system, due to the pervasive influence of a radical women's lobby in the Knesset and media, which insists that false allegations are very rare.
The matter was discussed in a heated debate last month in the Knesset's Committee for Advancement of the Status of Women, when three female lawyers who head the Committee on False Allegations and Parental Alienation in the Tel Aviv District of the Israel Bar Association claimed that such allegations are a very common phenomenon.
Representatives of women's groups linked to the New Israel Fund hotly disputed the claim and the parliamentary committee's chair, MK Aliza Lavie, read out what she said were police statistics, according to which there were only 12 cases of false allegations by women per year, and a similar number by men. The representatives of the Committee on False Allegations and Parental Alienation called this number "ridiculous."