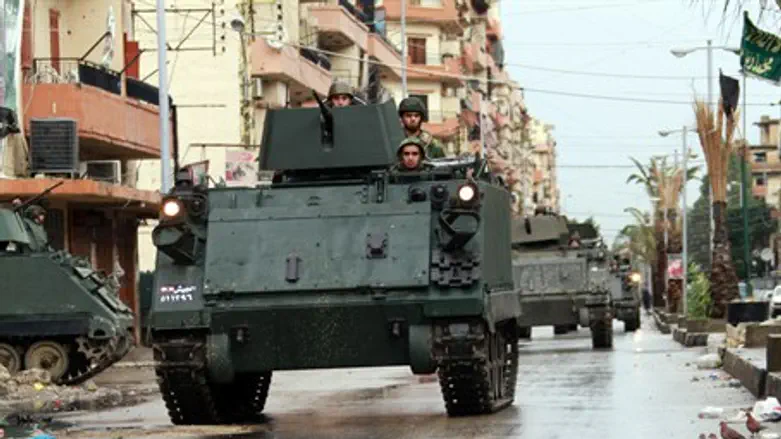 Lebanese Army soldiers patrol the Sunni Musli
Reuters
Thousands of civilians on Sunday fled their homes in a battered district of northern Lebanon's Tripoli, taking advantage of an informal truce in fighting between the army and Islamist militants, AFP reports.
The lull comes after three days of heavy clashes in Tripoli, the country's second biggest city, according to the report.
The coastal city has seen repeated clashes between Sunni fighters sympathetic to rebels in neighboring Syria and Alawites loyal to the Damascus regime.
The Sunnis have recently focused their attacks on the army over its alleged support for Damascus ally Hezbollah.
Hezbollah's strongholds in Lebanon have been the targets of repeated attacks ever since the group acknowledged sending fighters into Syria to support President Bashar Al-Assad's troops as they battle rebels.
Tripoli, which is mainly Sunni, has been hit by several bombings already. Ongoing fighting in that city between rival militias supporting different sides in the Syrian civil war have killed scores more.
The latest clashes erupted on Friday at the city's historic market, which is a major tourist attraction, according to AFP.
On Sunday, army mortar fire pounded the impoverished, outlying neighborhood of Islamist bastion Bab al-Tebbaneh, where the gunmen were pushed back and cornered.
Five civilians have been killed in three days, among them a child and two adults on Sunday, said a security official.
After pleas from residents and mediation by clerics, the army allowed thousands of civilians who had been caught in the crossfire for hours to flee Bab al-Tebbaneh.
An AFP journalist on the spot described chaotic scenes as people of all ages left their ravaged neighborhood.
Bab al-Tebbaneh is home to some 100,000 people, while the parts of the neighborhood where the fighting is worst is usually inhabited by some 15,000.
The AFP journalist said that even in areas far from the fighting, the streets were empty, with people too fearful to leave their homes.
Meanwhile, Al-Qaeda's Syrian affiliate the Al-Nusra Front threatened to kill at dawn on Monday a Lebanese soldier it captured in August during a bloody battle in restive Arsal, unless the army halts its Tripoli operations.
Al-Nusra Front has previously executed one captive Lebanese soldier.
The latest threat, issued via the group's Twitter account, came after two previous warnings on Sunday, which it apparently backtracked on.
Both Al-Nusra and rival Islamic State (ISIS) group jihadists captured 30 Lebanese soldiers and police in August around the eastern town of Arsal, close to the Syrian border.
They have since executed two of them.