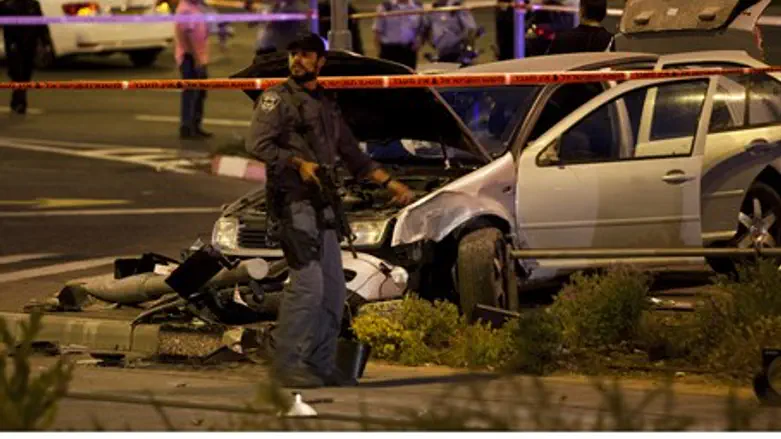 Scene of light rail terror attack
Flash 90
Karen Yemima Muskara, 22, has died Sunday, four days after she was mortally wounded when a terrorist plowed into a Jerusalem crowd with his car Wednesday.
She is the second victim of the attack to die. The first, baby Chaya Zisel Braun, died Wednesday.
Karen is a citizen of Ecuador who reportedly came to Israel with the intention of converting to Judaism.
Nine people were injured, when a terrorist hit them with his car outside the Givat Hatachmoshet (Ammunition Hill) Light Rail stop. 
"A private car hit passengers from the light rail near the police national headquarters. The car's driver attempted to escape and was shot, apparently by a police officer from the Jerusalem district," police spokeswoman Luba Samri said in a statement immediately after the attack. 
Footage of the attack shows a white car careening across the median and straight at pedestrians, mowing down some of them. 
The terrorist, 20-year-old Abdelrahman Shaludi of Shiloach (Silwan), attempted to flee the scene but was shot and wounded by police. He died in hospital several hours later.
Tensions have been rising ahead of Sunday night's funeral for Shaludi, which was due to take place at around 11:00 p.m. (2100 GMT) near Jerusalem's Old City walls, after it was delayed from Friday for security reasons.
Israeli authorities, fearing severe violence, are only allowing 20 mourners to attend and they have had to submit their names to police in advance.