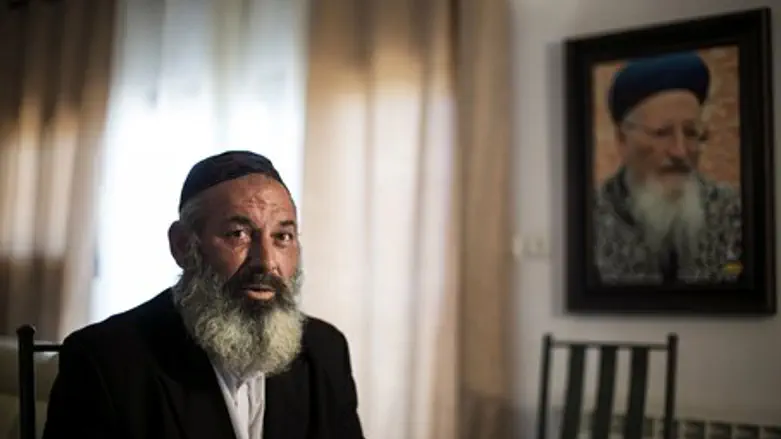 Rabbi Avraham Sinai in front of a picture of former Israeli Chief Rabbi Mordechai Eliyahu
Reuters
It may be hard to believe, but Rabbi Avraham Sinai's journey to the holy city of Tzfat in northern Israel, where he lives today with his family, included a prolonged stint as a Hezbollah terrorist.
In his previous life, 52-year-old Rabbi Sinai was a Shia Muslim living in Lebanon. Surprisingly, in the was the Palestine Liberation Organization (PLO) terrorist group which initially pushed him towards Israel.
Past and present: Rabbi Sinai shows a photo of himself back in Lebanon
Reuters
The PLO, made up mainly of secular Sunni Muslims, took over wide swathes of territory in Lebanon, and mercilessly persecuted Shia Muslims under their control.
"They did things that were worse than what is going on in Syria," Rabbi Sinai said in a recent interview with Israeli Channel 20.
Rabbi Avraham Sinai prays in the yeshiva where he studies in Tzfat
Reuters
He began helping Israeli intelligence, passing information on PLO movements in his area.
When the PLO's influence waned and the Shia terrorist group Hezbollah was founded - with funding and support from Iran - Sinai's Israeli handlers persuaded him to sign up.
For years, he worked as a spy within Hezbollah's ranks, climbing its ranks and passing on valuable information on the terror group's activities to Israeli intelligence - foiling several terrorist attacks, he says.
Former life: As an Israeli spy within Hezbollah, next to pictures of him today
Reuters
But eventually, his cover was blown, and he was forced to flee to a region of southern Lebanon controlled by the Southern Lebanese Army (SLA) - which was allied with Israel at the time.
Not long after, his Israeli handlers informed him his life was still in danger, and relocated him to Israel. There, he converted to Judaism along with his wife under the tutelage of the chief rabbi of Tzfat, Rabbi Shmuel Eliyahu.
Today
Reuters
Decades later he says he sees the entire episode as God's work, and gave a thought-provoking perspective on his journey in the Channel 20 interview.
Now, he is a rabbi in the holy Israeli city of Tzfat
Reuters
The full Channel 20 interview with Rabbi Avraham Sinai (Hebrew) can be viewed here.